#SheDIDIT events
a safe space to share struggles, learn from others, focus on your growth and expand your network
What we got planned so far
#SheDIDIT hosts monthly workshops, networking events and moments to meet the community in our #SheHUB concept store. The focus is always growing your network by surrounding yourself with inspiring womenpreneurs. And to gain new knowledge and skills!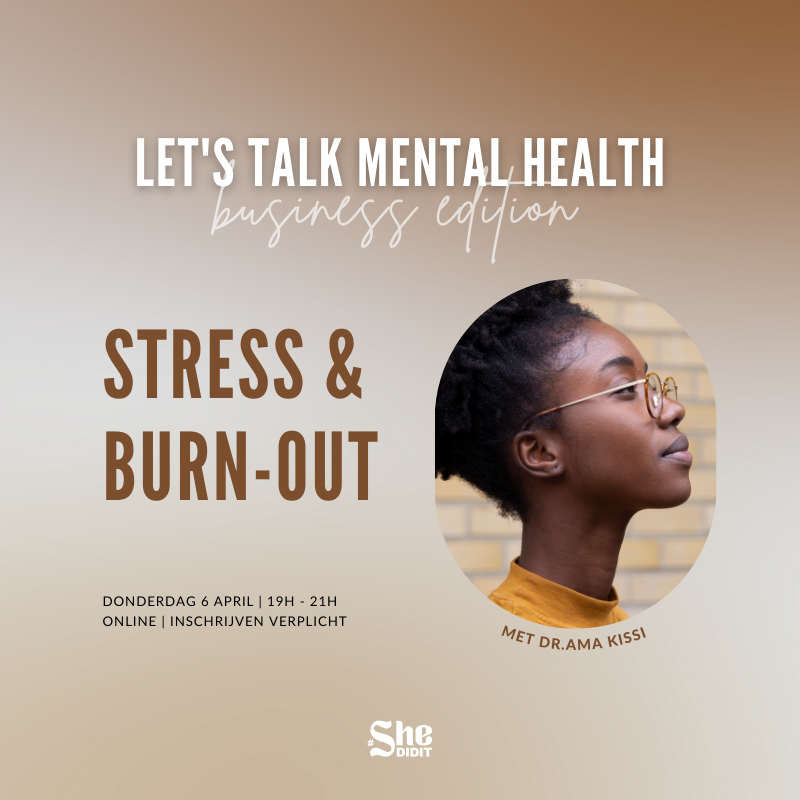 Workshop met Dr. Ama Kissi
Donderdag 6 april — 19h tot 21h — Online
Een thema dat niet weg te denken is "stress & burn-out". Net zoals het idee dat je je vrijwel kapot moet werken om je doelen te bereiken, ook gekend als de 'hustle culture', verheerlijkt wordt, blijft stress-management voor velen een uitdaging.
Net daarom is het voor ons belangrijk om dit thema samen te bespreken binnen onze speciale workshopreeks "Let's talk mental health: business edition". Een brave space waar gevoelige thema's rond gezondheid & ondernemen aan bod komen.
Deze keer nodigen we Dr. Ama Kissi uit om haar expertise te delen: Wat zijn de waarschuwingssignalen en hoe neem je proactieve maatregelen? 🤔
👉 We staan stil bij de specifieke uitdagingen die vrouwelijke ondernemers ondervinden en hoe deze stressoren kunnen bijdragen tot overmatige stress, burnout, en andere gezondheidsproblemen. Dr. Ama pakt het meteen aan door strategieën en tools aan te reiken gericht op het managen van stress & veerkrachtiger te zijn.
👉 We zullen ook bijzondere aandacht besteden aan hoe de intersectie van sociale identiteiten (bv., een vrouwelijke ondernemer van kleur zijn) een invloed kan hebben op stress.
👩🏾‍💻 Wie is Dr. Ama Kissi? Een postdoctoraal onderzoeker aan de Universiteit Gent. Haar onderzoek richt zich op het identificeren van factoren (zoals vooroordelen) die raciale ongelijkheden in de gezondheidszorg kunnen verklaren. Bovendien geeft Ama regelmatig workshops (o.a. over stress & burnout) en lezingen, en werkt ze als klinisch psycholoog, diversiteit & inclusie consultant en freelance onderzoeker.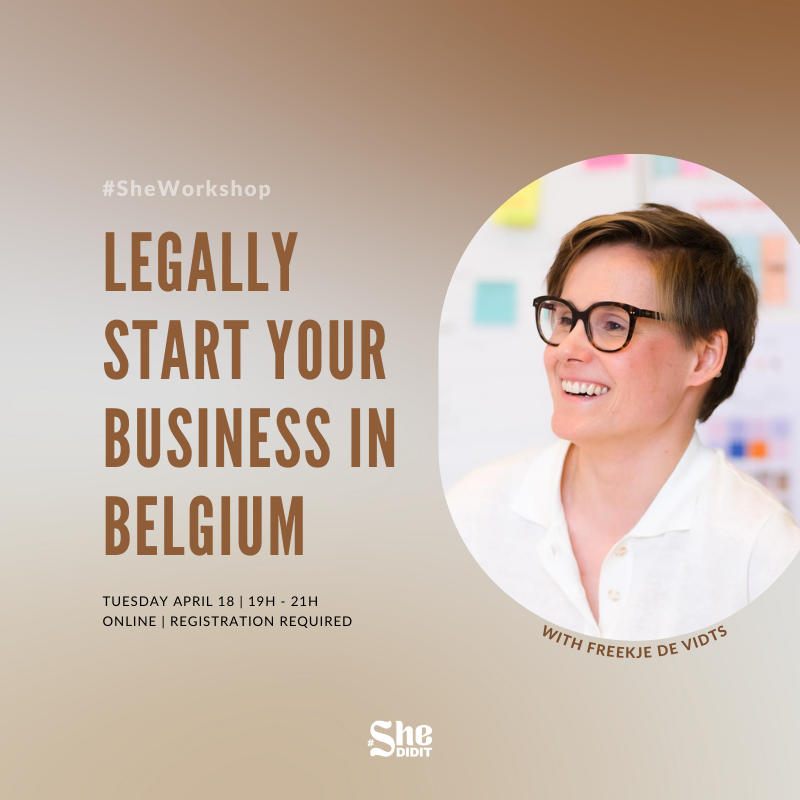 Workshop with Freekje De Vidts
Tuesday 18 April — 19h tot 21h — Online
How do legally start your business in Belgium? Just thinking of this question feels overwhelming for some. Don't worry if you're also confused about the Belgian administration systems. During our next workshop we'll guide you through the maze and help you see the light, again.
You'll learn the basics, the do's & don'ts and what order to follow when starting your business. It's also handy-dandy if you already started, making sure to dot all the i's & cross the t's. Your coach will be Freekje De Vidts.
👩 Who is Freekje? She's the is co-founder of Legal Freaks, the innovative legal service provider for growth companies and ambitious freelancers. Over the past 10 years, she passed through different roles as a lawyer: a civil servant at UNIZO's Study Service, as a lawyer in IP, IT & Privacy and as a legal interim manager where she was both support for a team and also worked as solo legal counsel. In 2020, she combined all her expertise in her own company Legal Freaks. Her services include writing legal documents, protecting intellectual property, strategic sounding board for clients, and so on.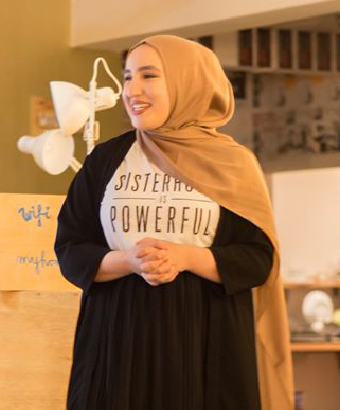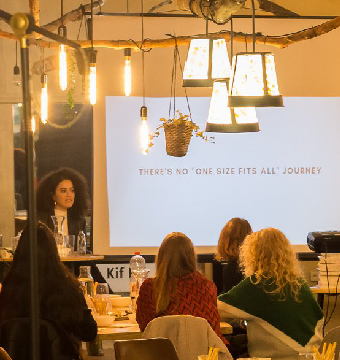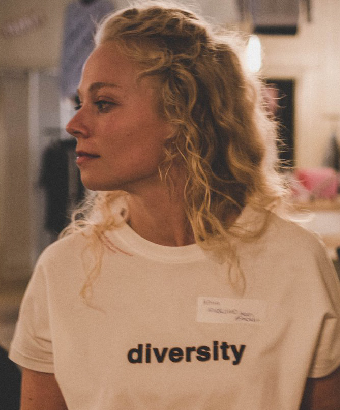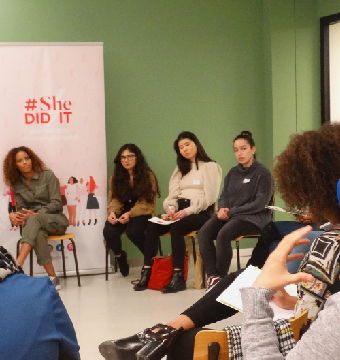 & more events organized ever since
goal: where diversity meets womenpreneurship
"
From my experience the #SheDIDIT platform brings women from diverse backgrounds together and highlights ambitious women with entrepreneurial dreams. I've walked away from each event with a new found passion to pursue my dreams and the resources to do it."
— Myriam de Groef
Curious about the themes and type of events we've held since our start in 2018? Don't forget to look up our amazing womenpreneurs speakers!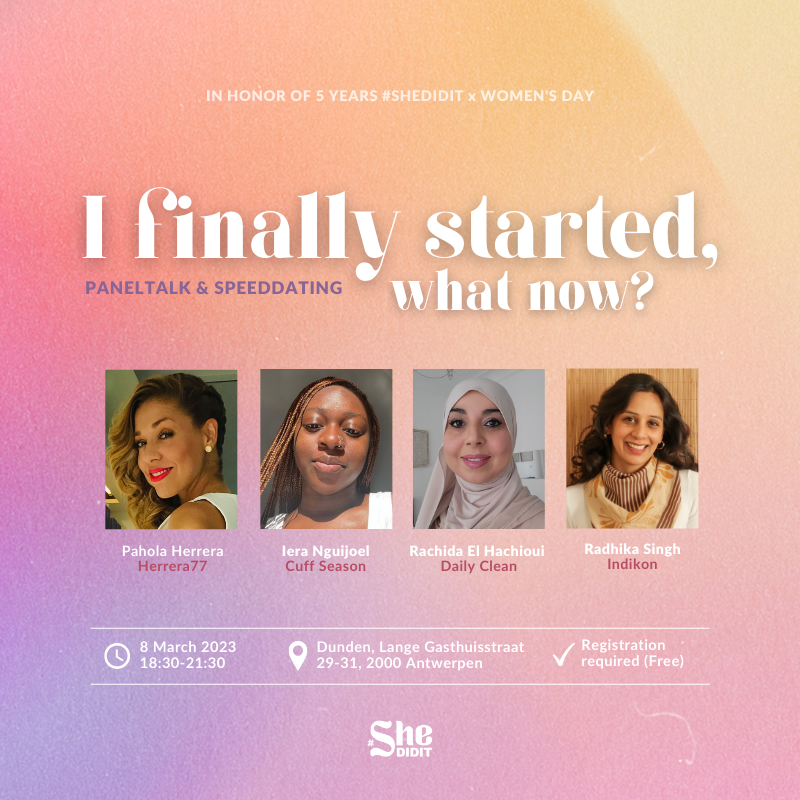 Networking event: I finally started, what now?
with Pahola Herrera, Iera Sih Nguijoel, Rachida El Hachioui & Radhika Singh
8 March 2023  –  Antwerp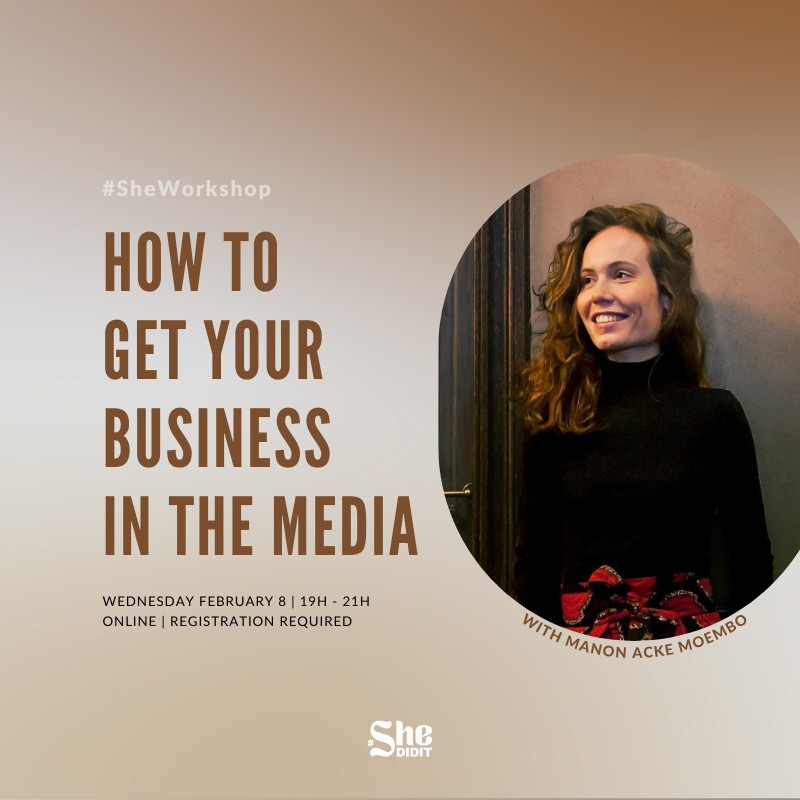 Workshop: How to get your business in the media
with Manon Acke Moembo
8 February 2023  –  Online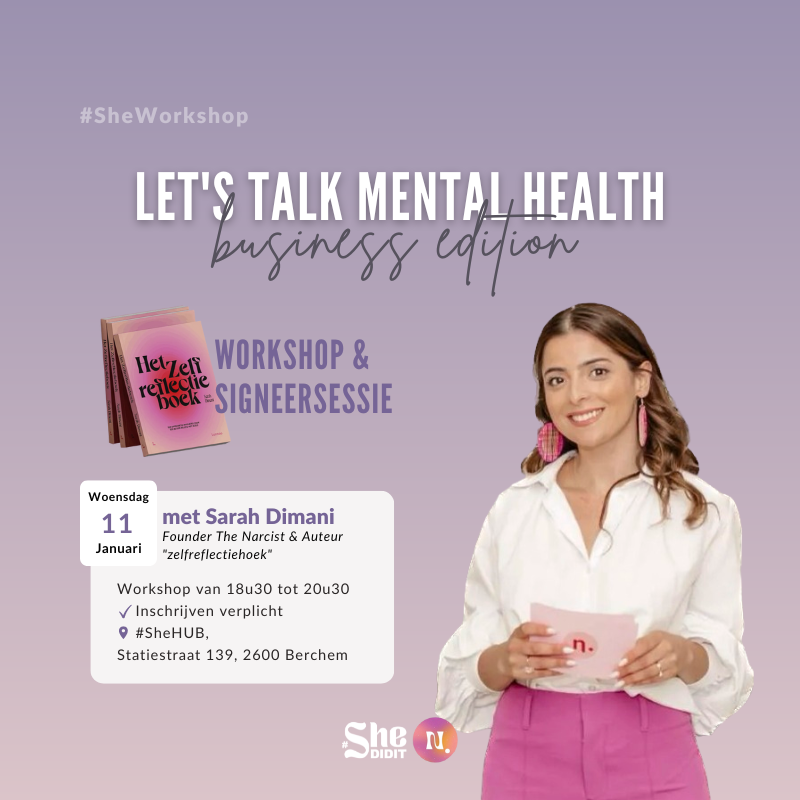 Let's talk mental health: zelfreflectie
with Sarah Dimani
11 January 2023  –  Antwerp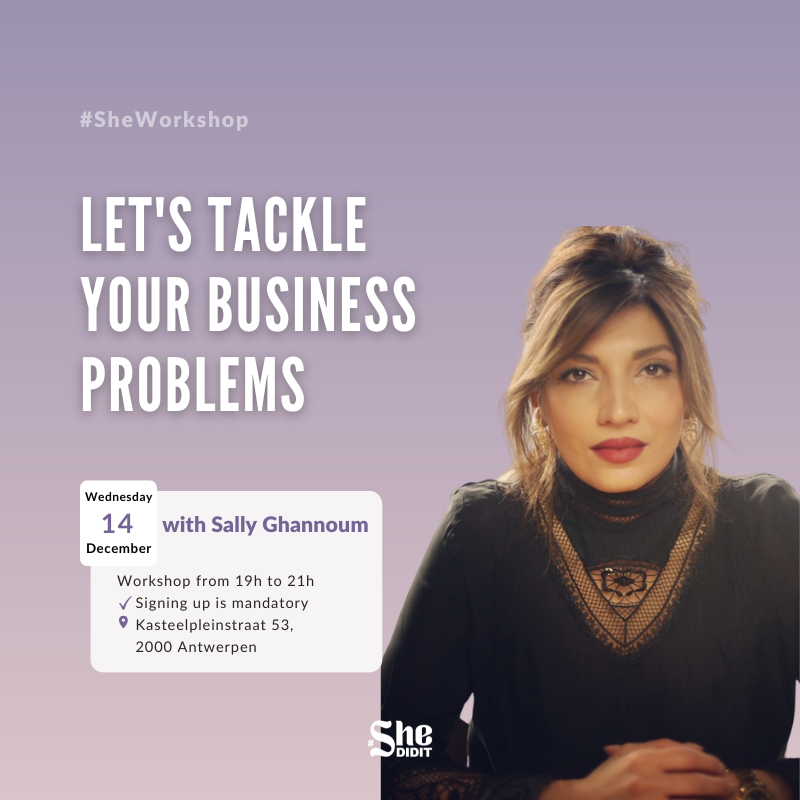 Let's tackle your business problems
with Sally Ghannoum

14 December 2022 –

Antwerp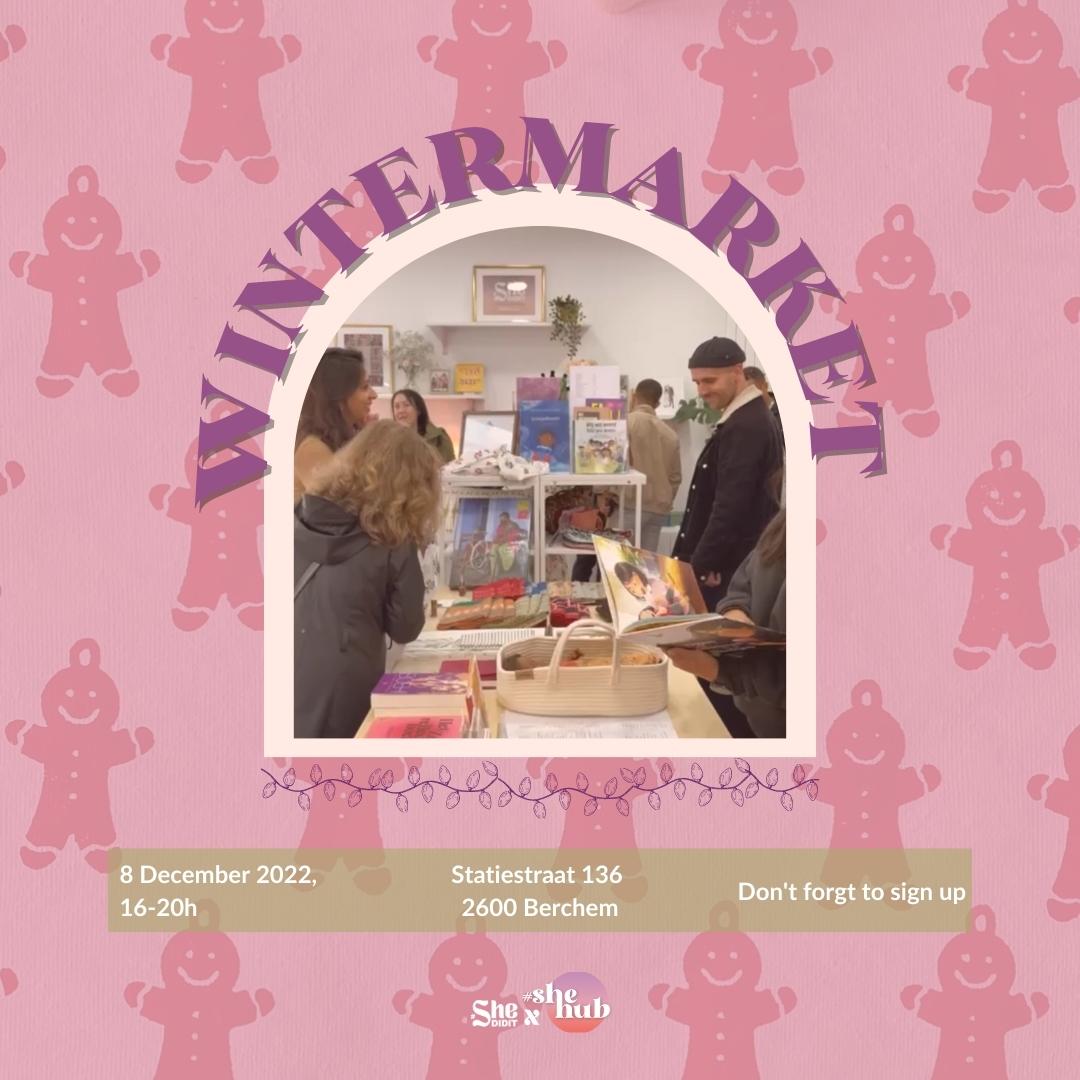 #SheHUB: wintermarket + meet the womenpreneurs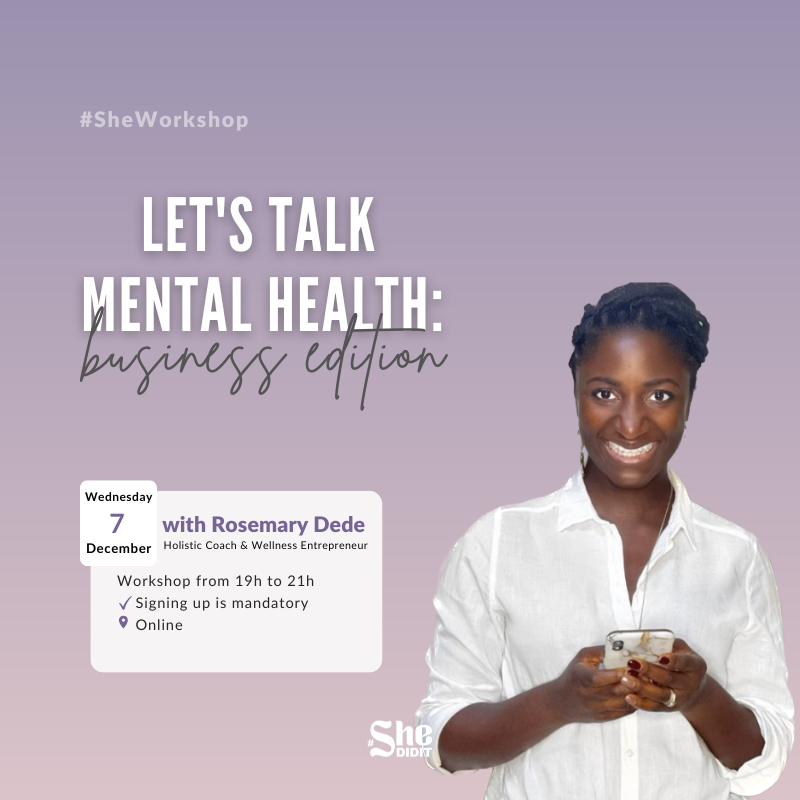 Let's talk mental health: doorbreek je negatief zelfbeeld
with Rosemary Dede

7 December 2022 –

Online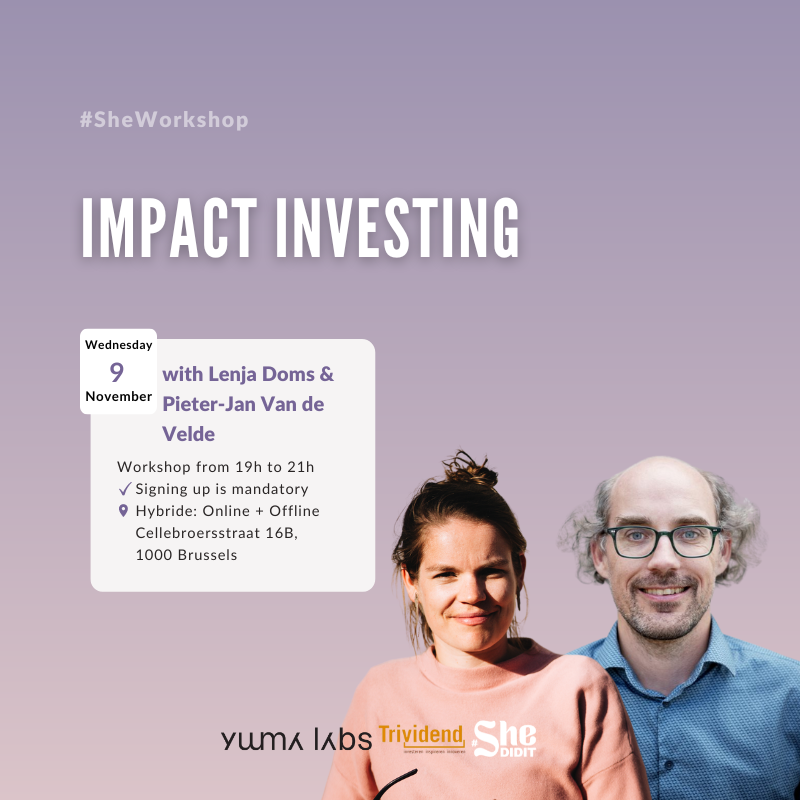 Workshop: Impact investing
with Lenja Doms & Pieter-Jan Van de Velde

9 November 2022 –

Online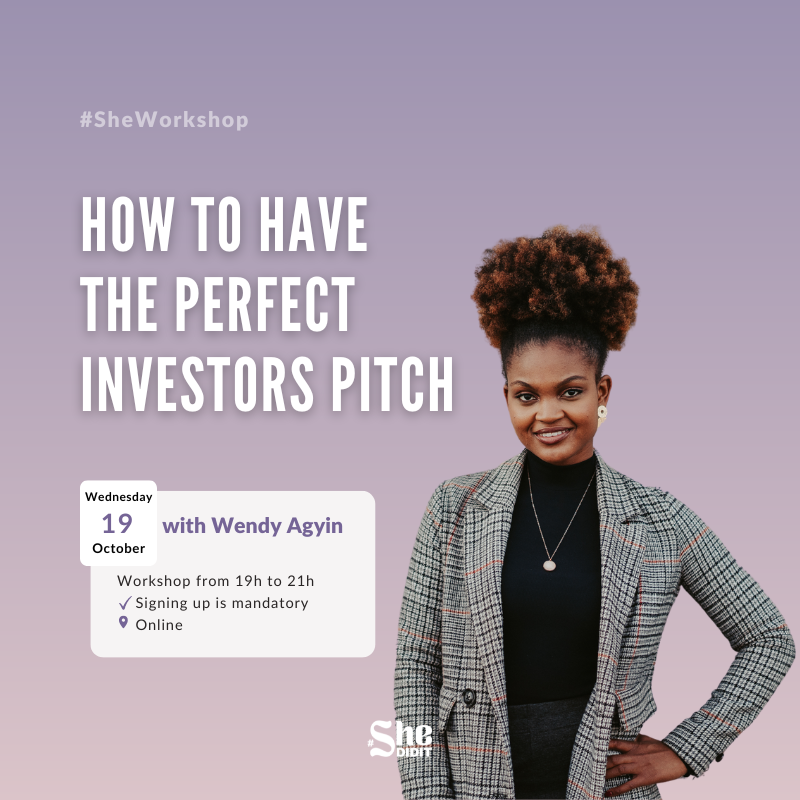 Workshop: How to have the perfect investors pitch
with Wendy Agyin
19 October 2022 –  Online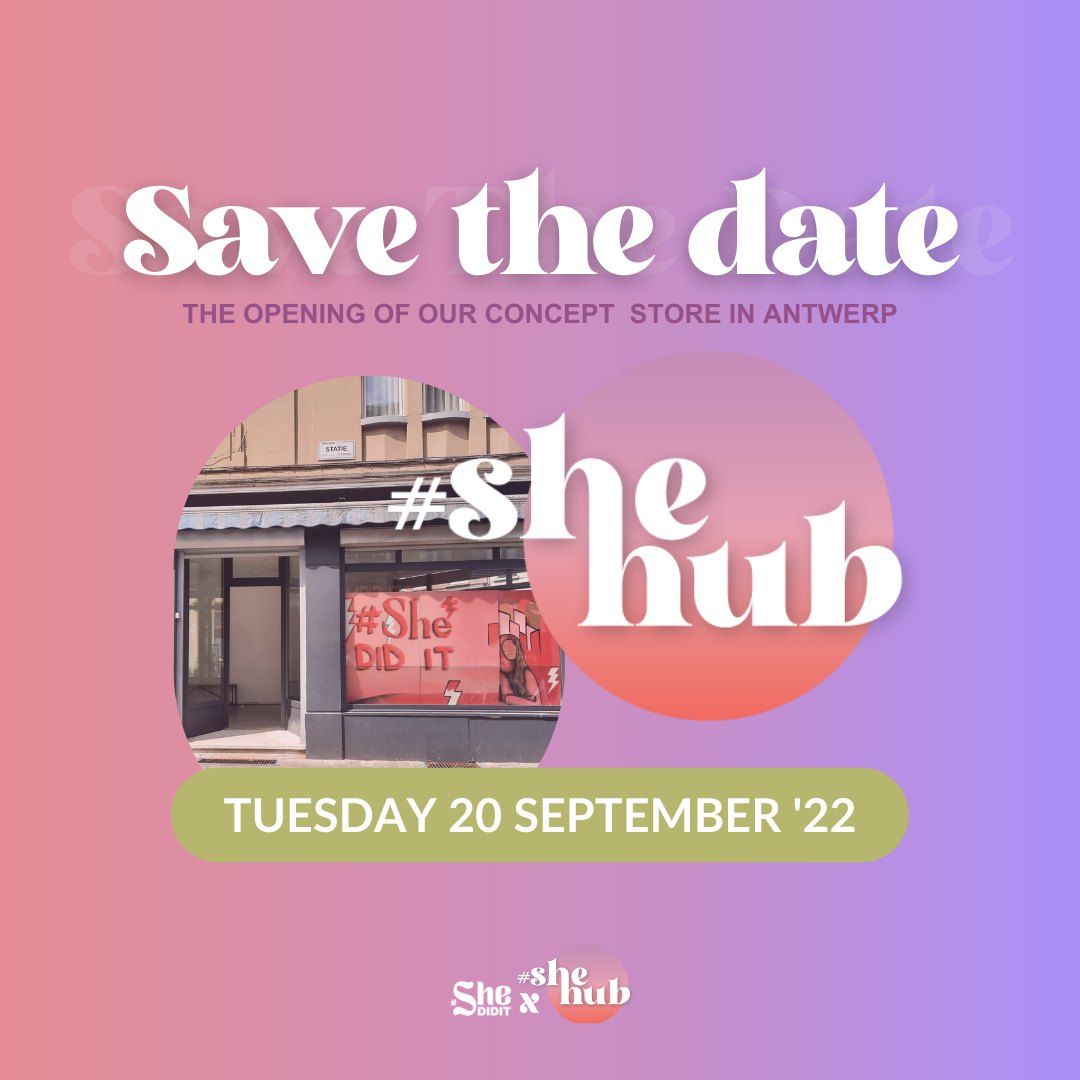 Opening #SheHUB
Our first concept store! Statietraat 139, Berchem

20 September 2022 –

Antwerp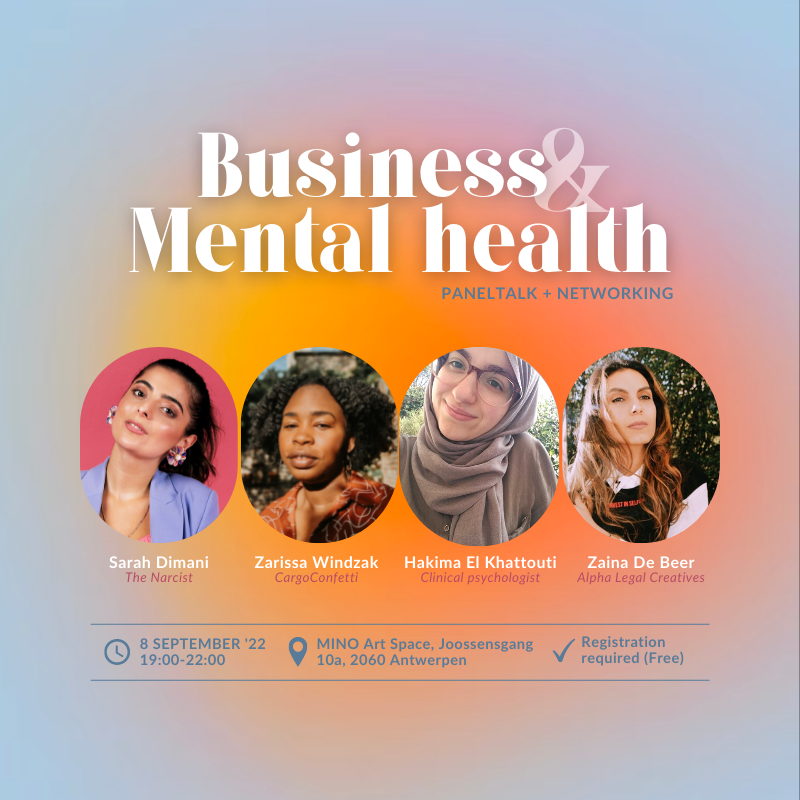 Network: Business & Mental health
with Zarissa Windzak, Sarah Dimani, Hakima El Khattouti and Zaina De Beer

8 September 2022 –

Antwerp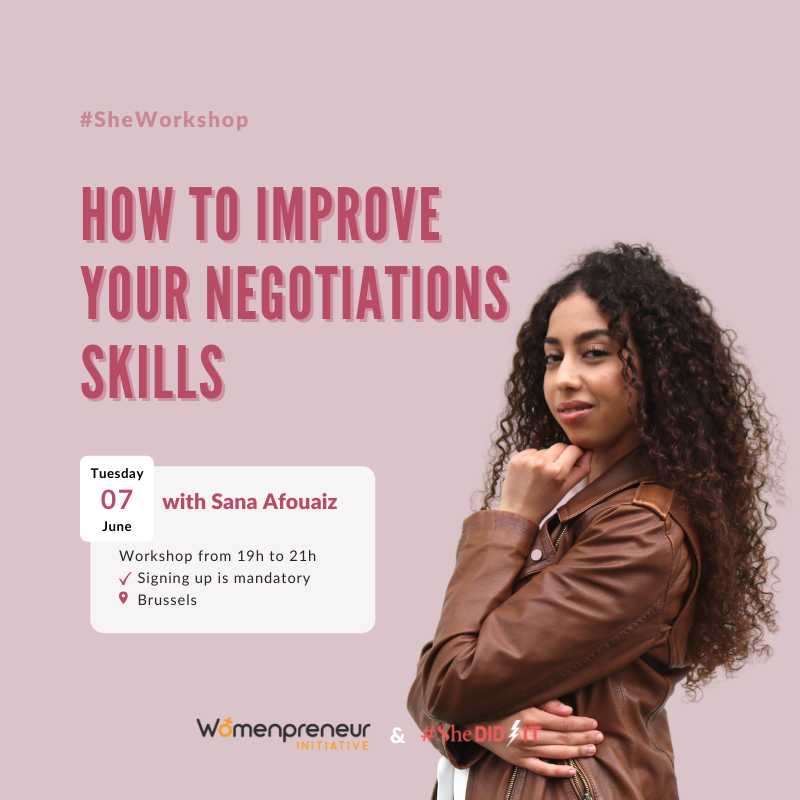 Workshop: How to improve your negotiations skills
with Sana

Afouaiz



7 June 2022 –

Online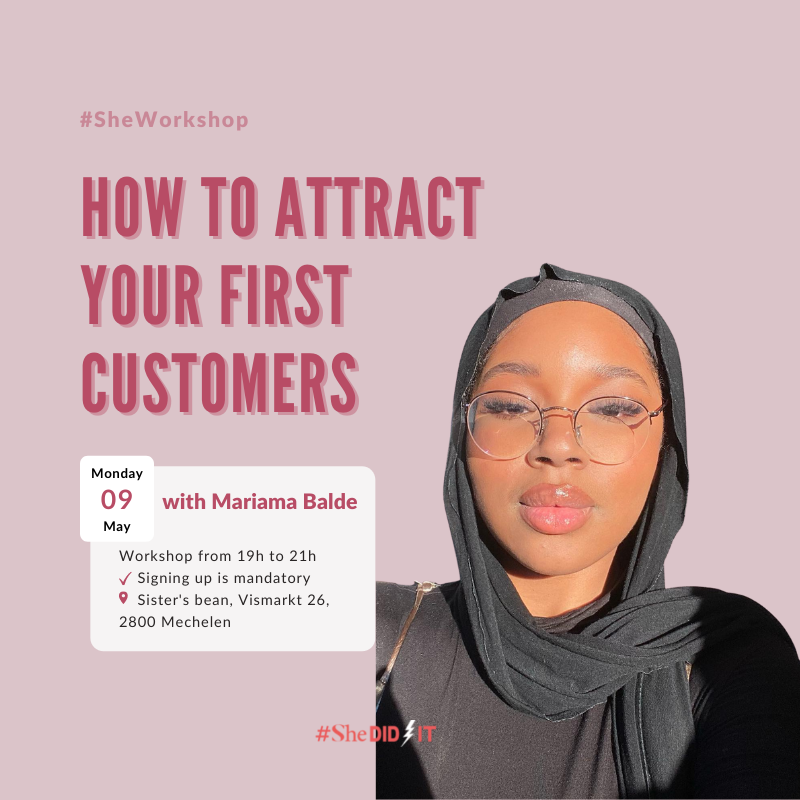 Workshop: How to attract your first customers
with Mariama Balde

9 May 2022 –

Mechelen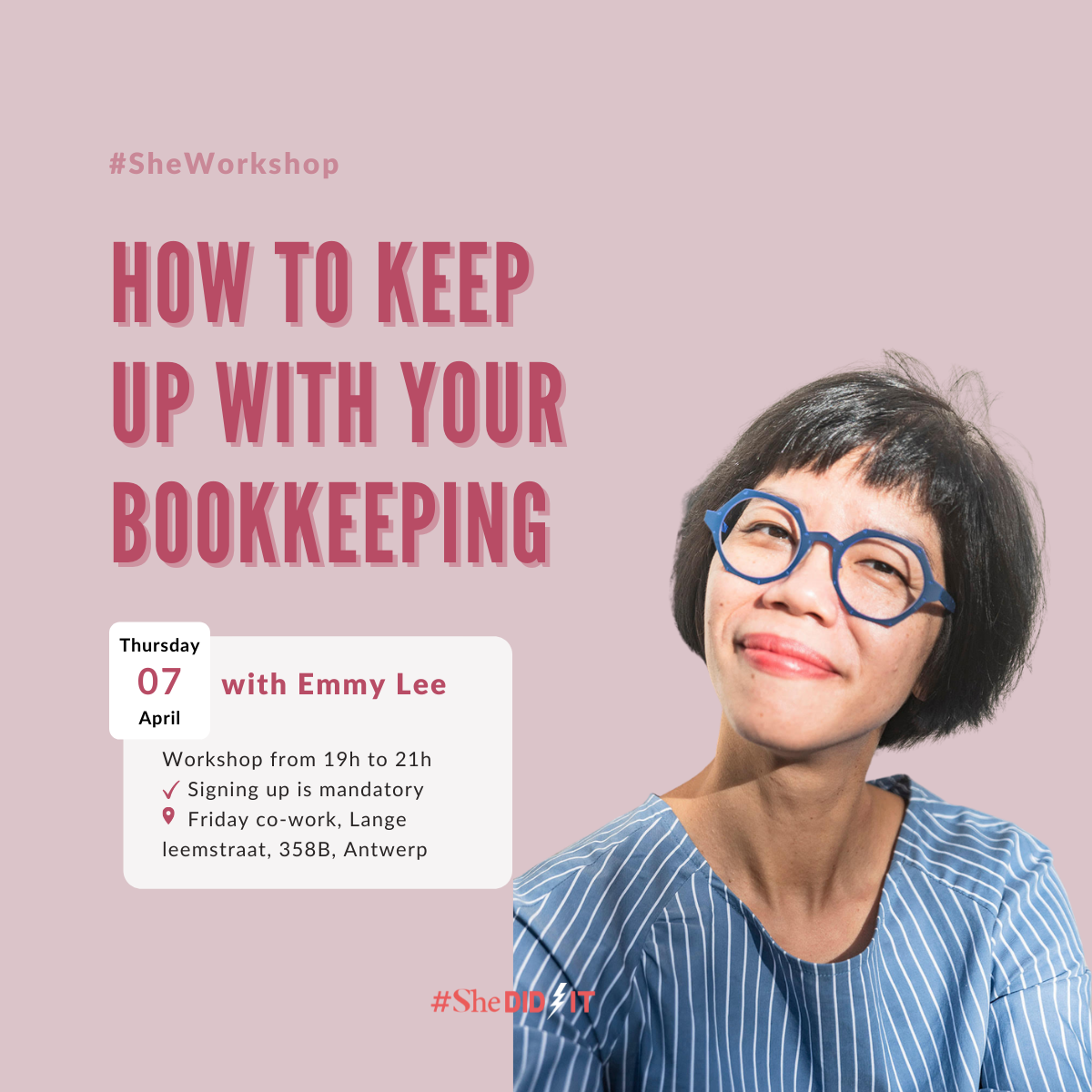 Workshop: How to keep up with your bookkeeping
with Emmy Lee

7 April 2022 –

Antwerp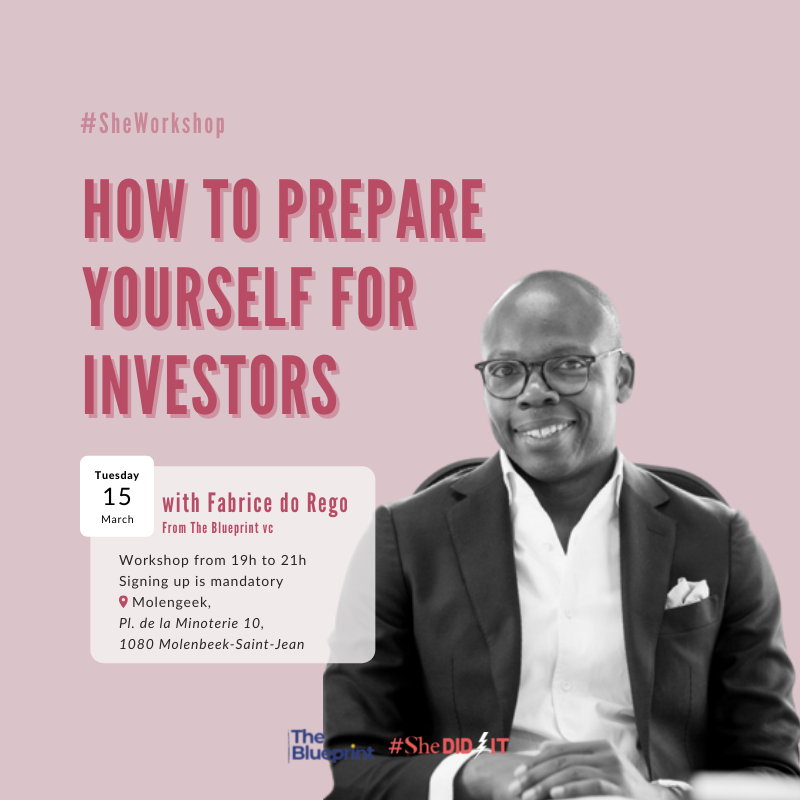 Workshop: How to prepare yourself for investors
with Fabrice do Regro

15 March 2022 –

Online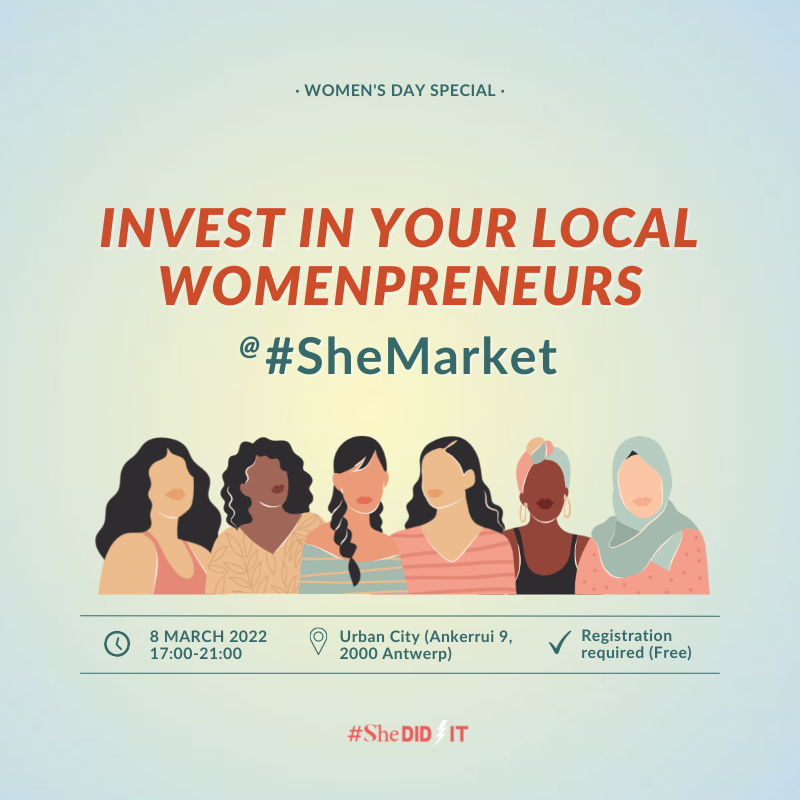 #SheMarket
with 15 different womenpreneurs

8 March 2022 –

Antwerp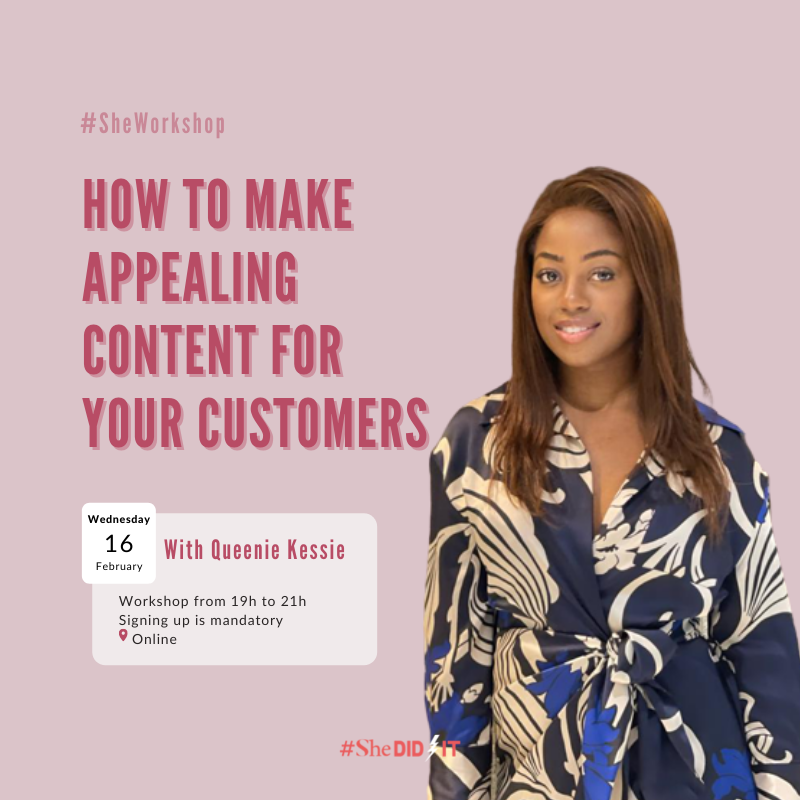 Workshop: How to make appealing content for customers
with Queenie Kessie

16 February 2022 –

Online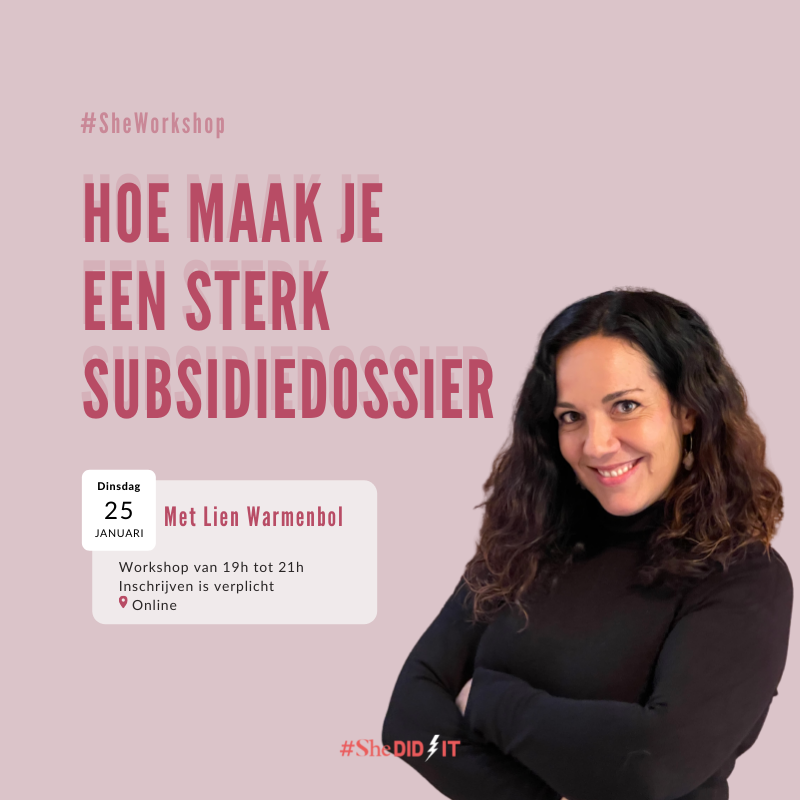 Workshop: Hoe maak je een sterk subsidiedossier
with Lien Warmenbol (#SheDIDIT)

25 January 2022 –

Online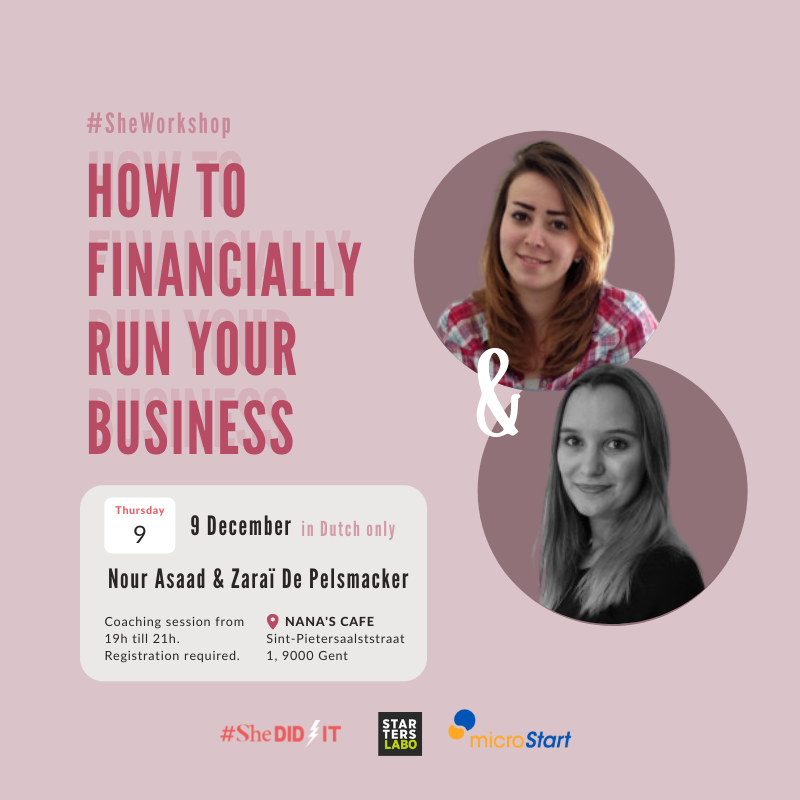 Workshop: How to financially run your business
with Nour Asaad & Zaraï de

Pelsmacker



9 December 2021 –

Ghent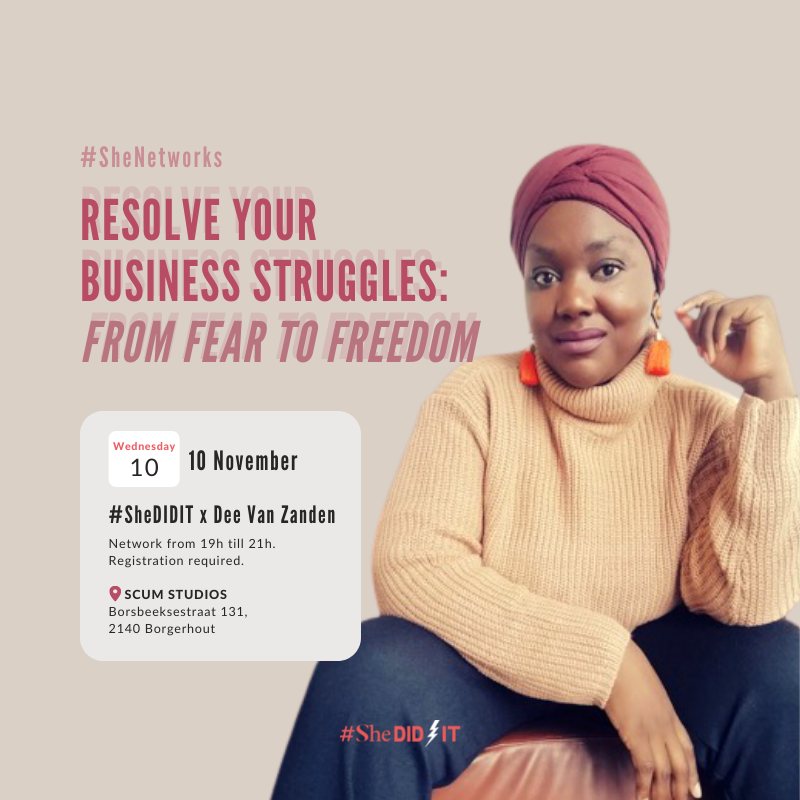 Network/Workshop: Resolve your business struggles — from fear to freedom
with Dee van Zanden

10 November 2021 –

Antwerp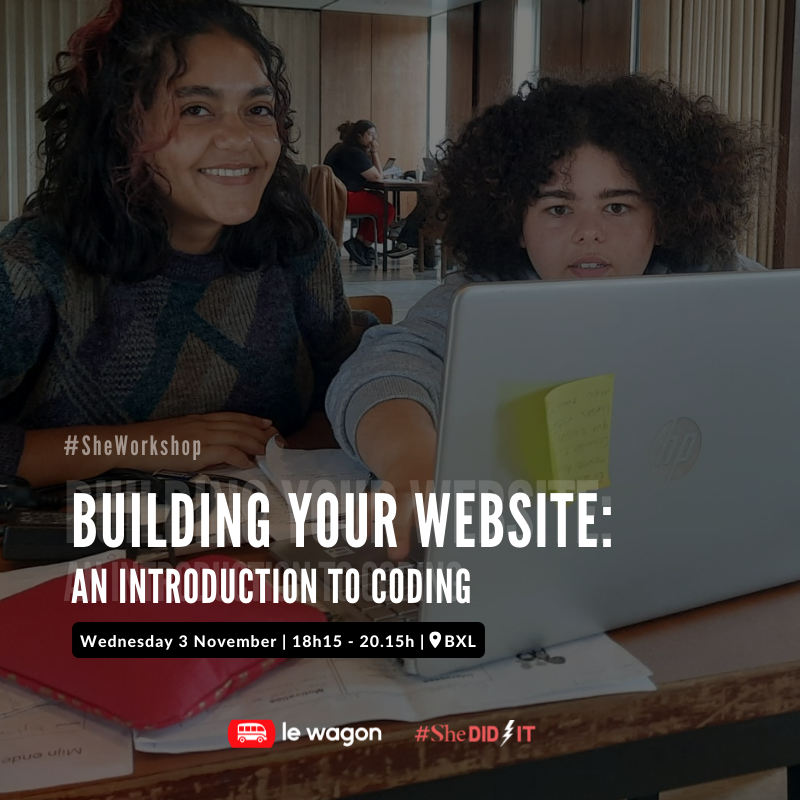 Workshop: building your website — an introduction to coding
with LeWagon Brussels

3 November 2021 –

Brussels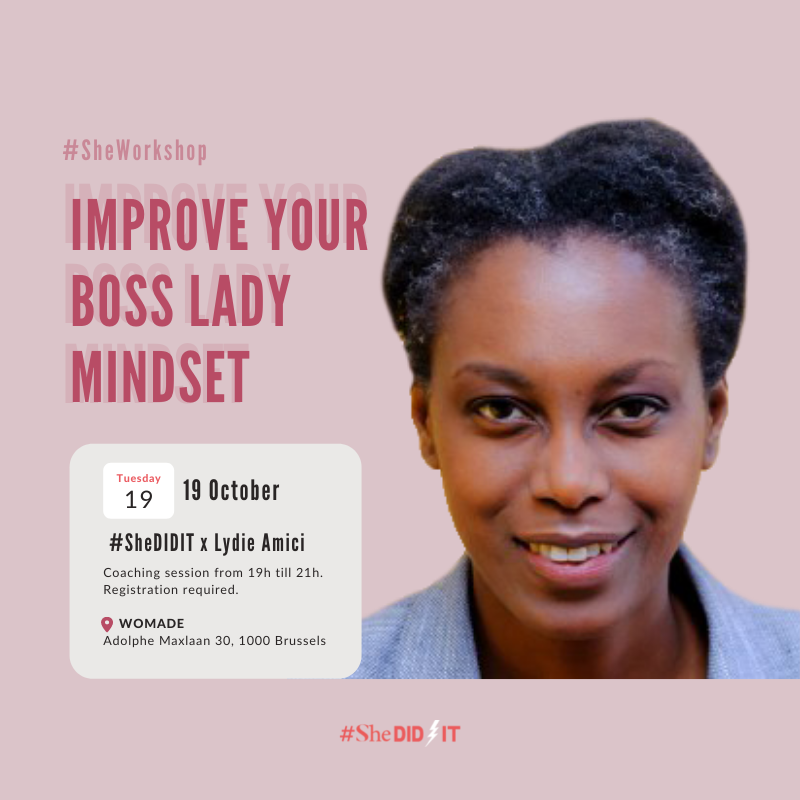 Workshop: Improve you boss lady mindset
with

Lydie Amici



20 October 2021 –

Brussels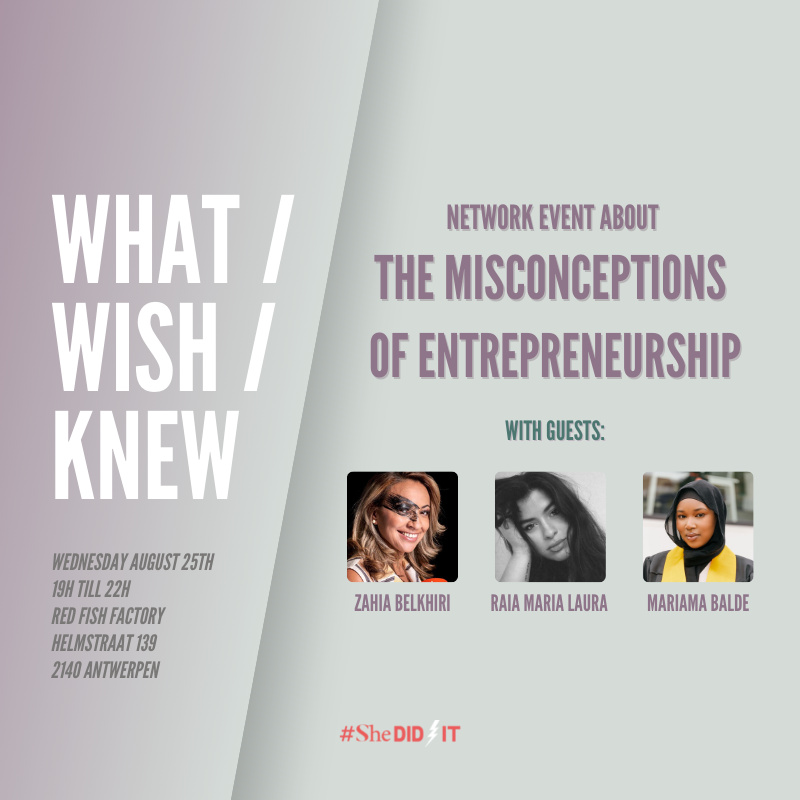 Network: the misconceptions of entrepreneurship
with

Zahia Belkhiri, Raia Maria Laura and Mariama Balde



25 August 2021 –

Antwerp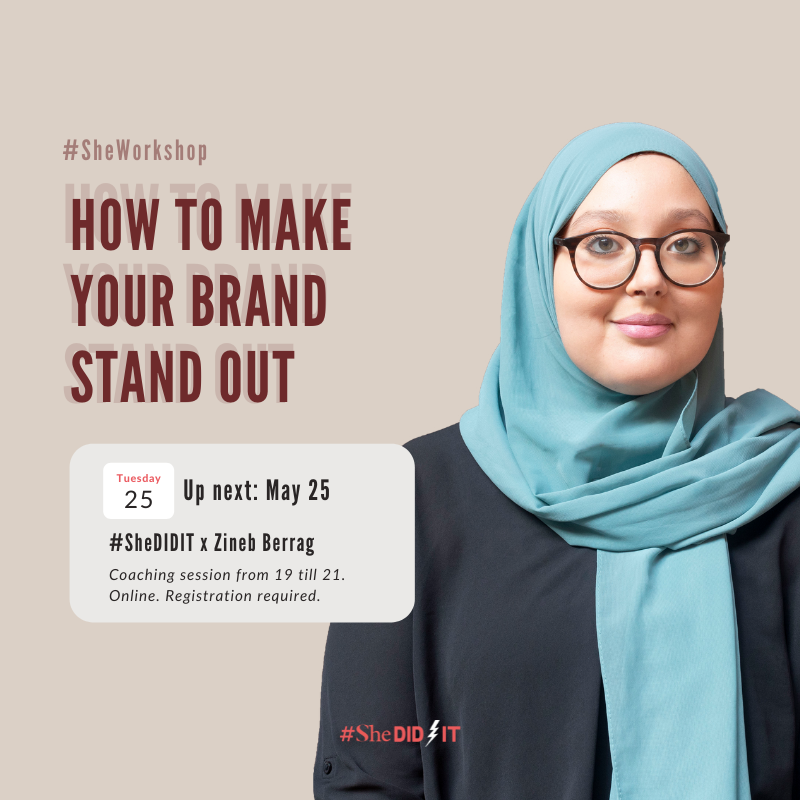 Workshop: How to make your brand stand out
with

Zineb Berrag



25 May 2021 –

Online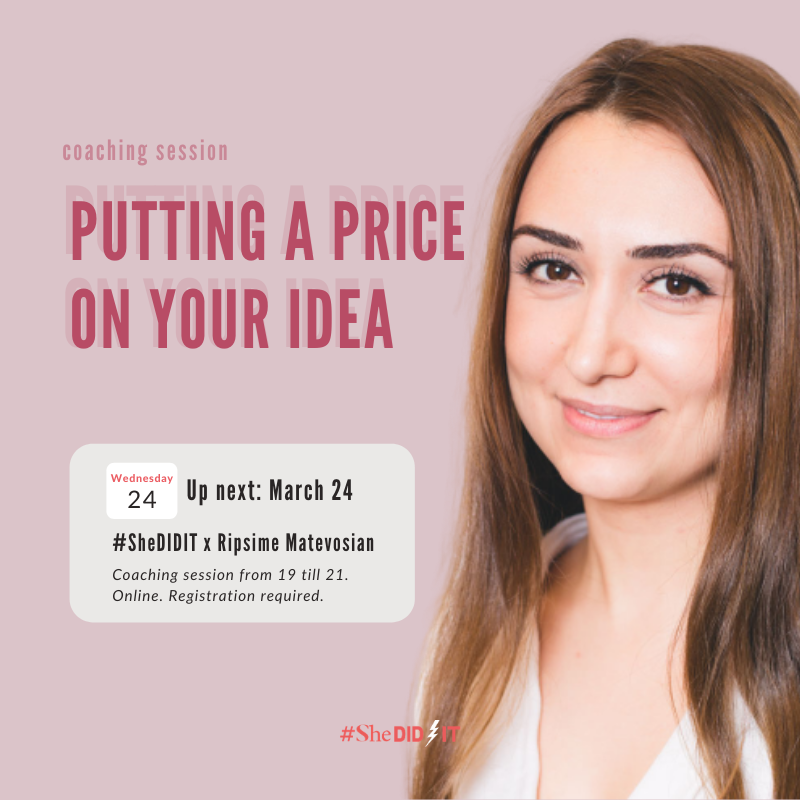 Workshop: Putting a price on your idea
with

Ripsime Matevosian



24 March 2021 –
Online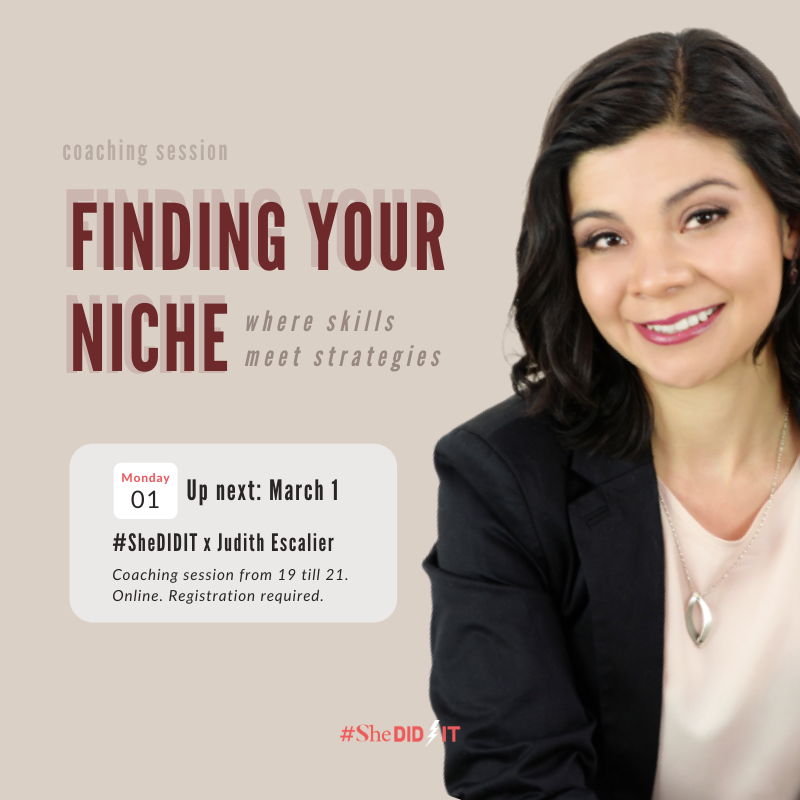 Workshop: finding your niche
with Judith Escalier

3 March 2021 –
Online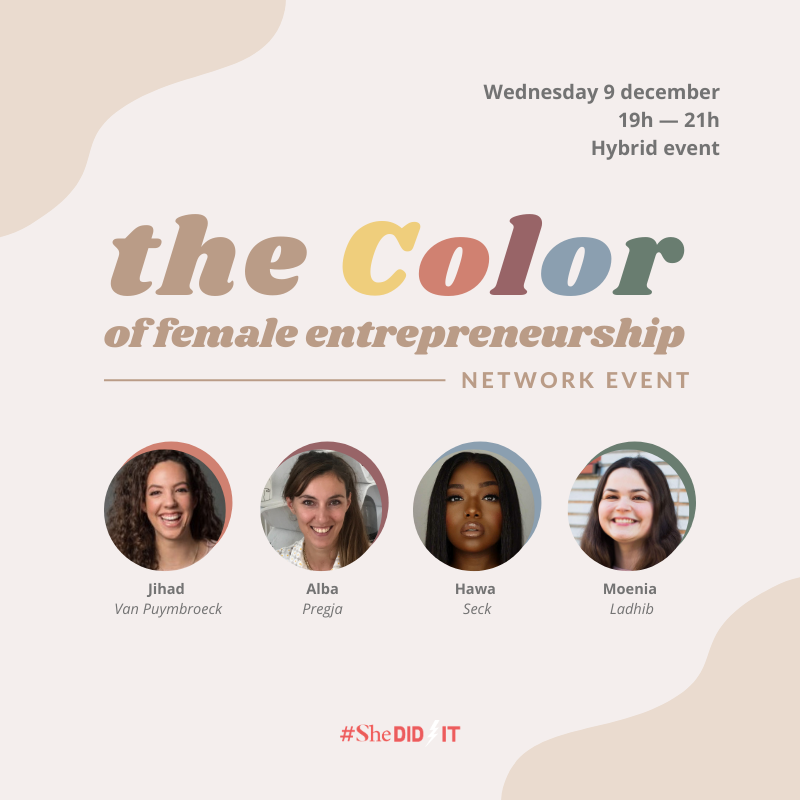 Netwerk: the color of female entrepreneurship
With Jihad van Puymbroeck, Alba Pegja, Hawa Seck & Moenia Ladhib

09 December 2020 –
Online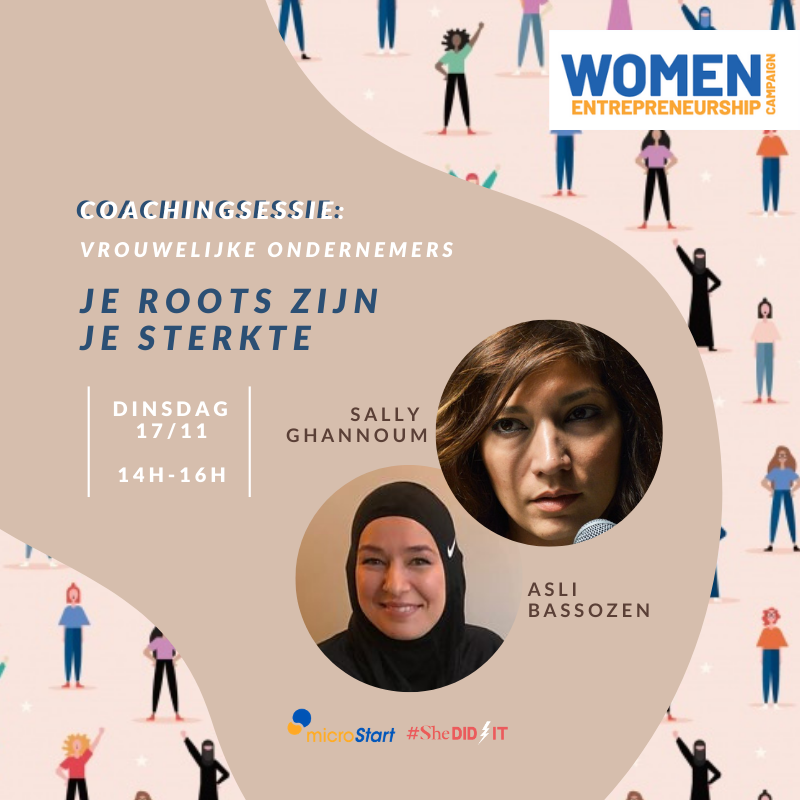 Coaching: vrouwelijke ondernemers - je roots zijn je sterkte
With Sally Ghannoum & Asli Bassozen i.s.m. Microstart

17 November 2020 –
Online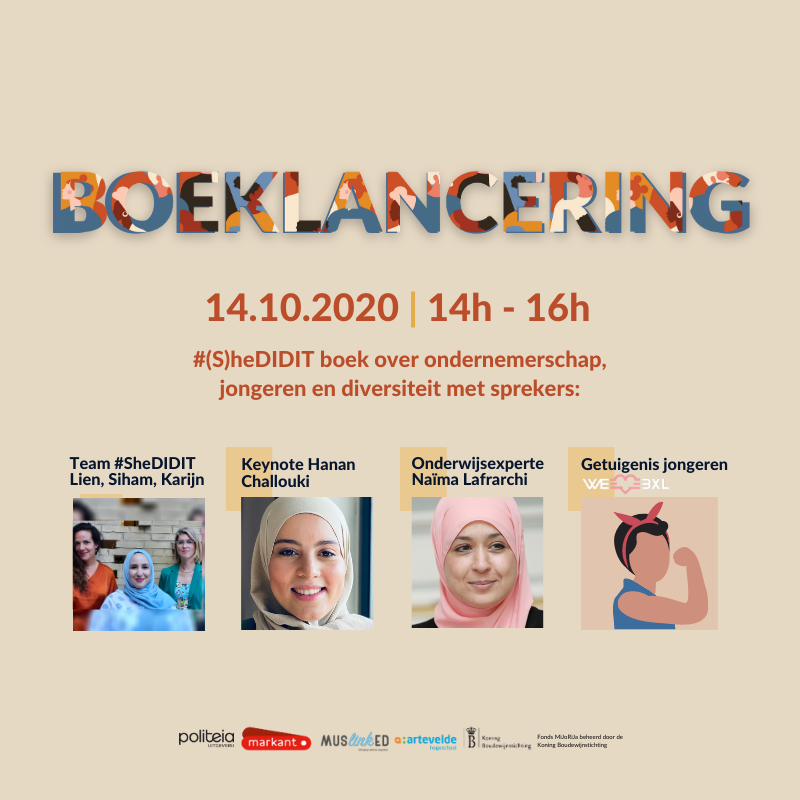 Boeklancering: over ondernemerschap, jongeren en diversiteit
With Hanan Challouki, Naïma Lafrarchi, WeLoveBXL jongeren en #SheDIDIT

14 October 2020 –

Hybride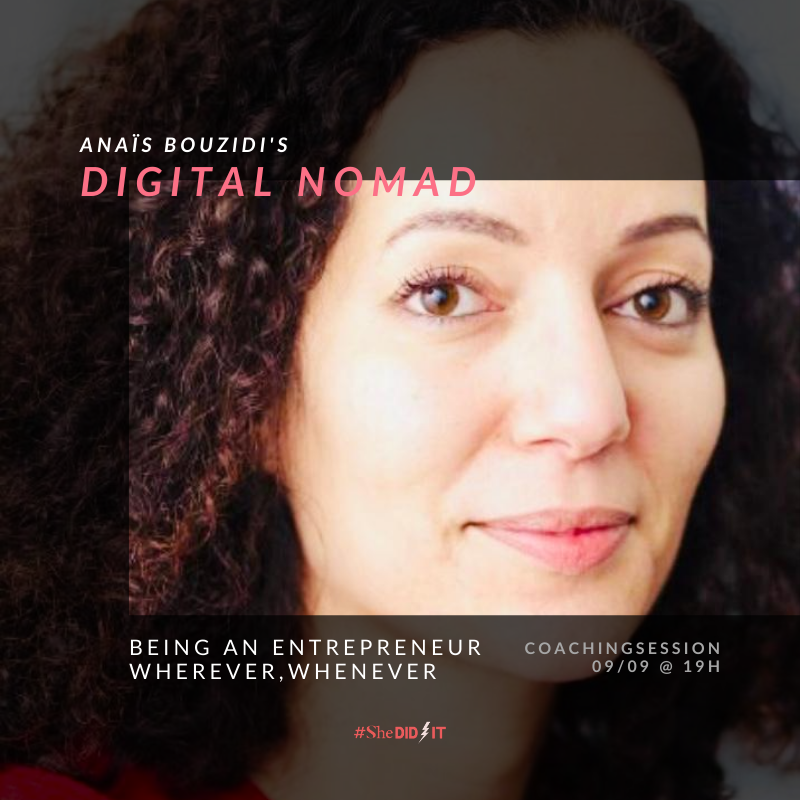 Coaching: Being a digital nomad: being an entrepreneur whenever, wherever
With Anaïs Bouzidi

9 September 2020 –
Online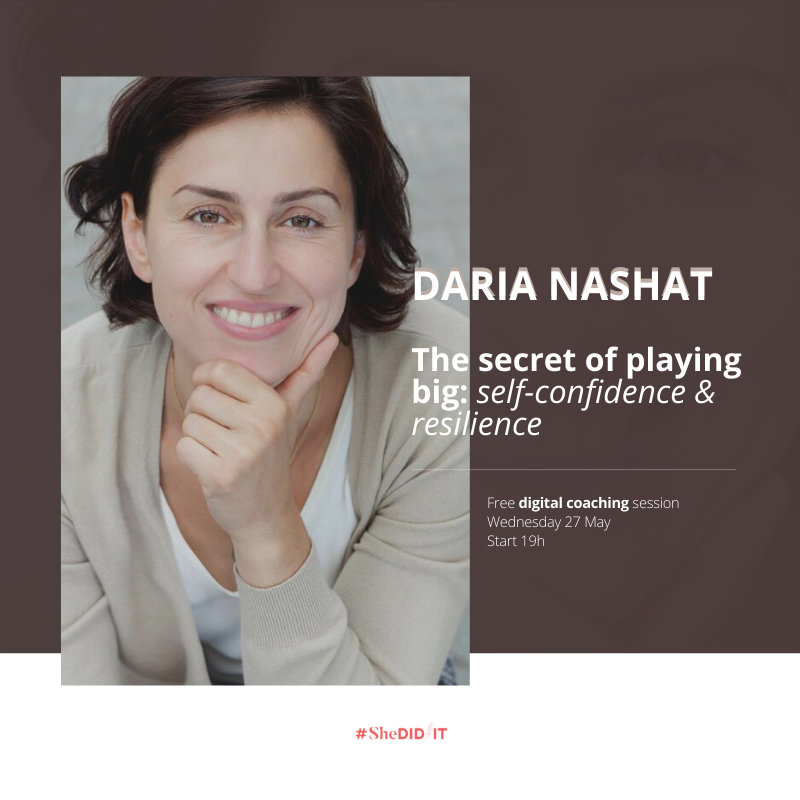 Coaching: The secret of playing big - self-confidence & resilience
With Daria Nashat

27 May 2020 –
Online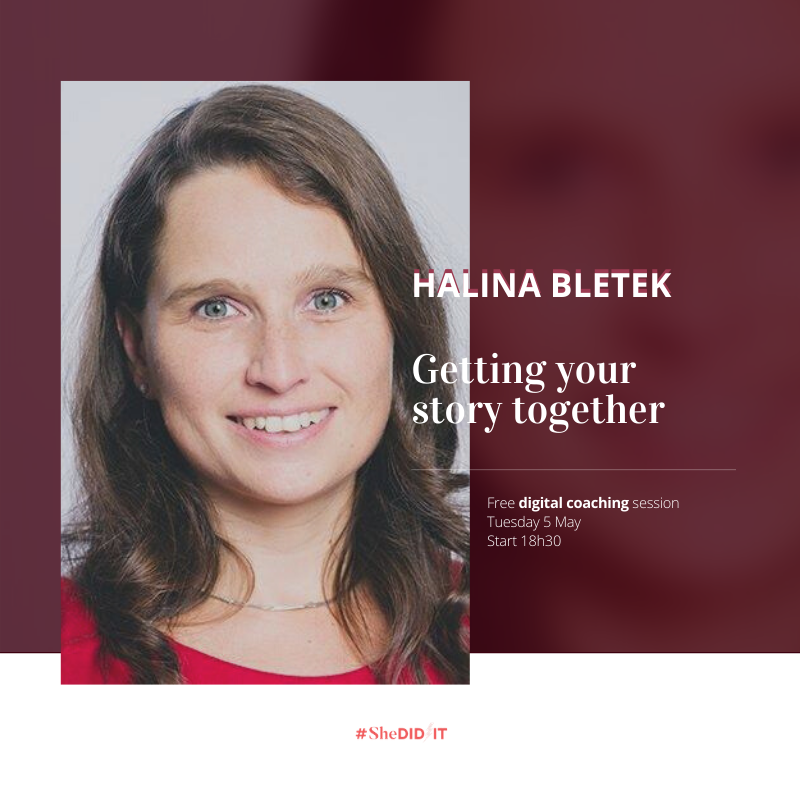 Coaching: Getting your story together
With Halina Bletek

5 May 2020 –
Online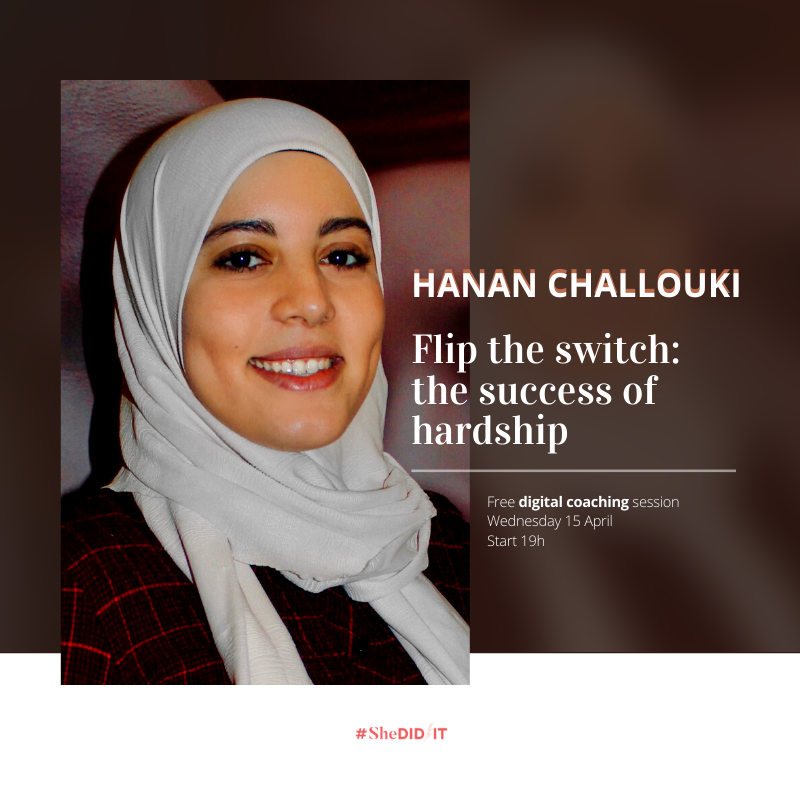 Coaching: Flip the switch - the success of hardship
With Hanan Challouki

15 April 2020 –
Online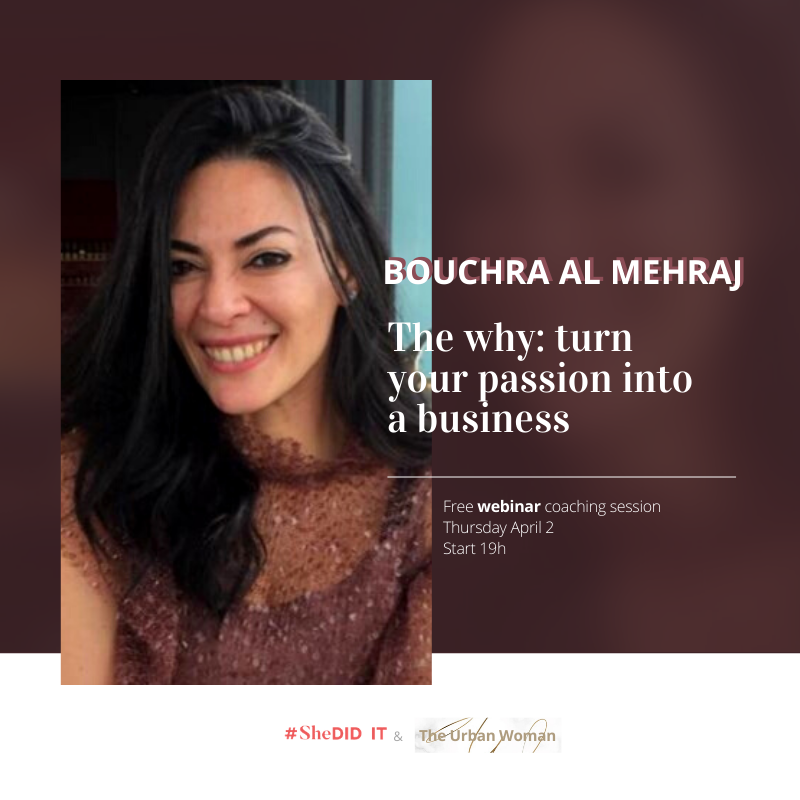 Coaching: The why - turn your passion into a business
With Bouchra Al Mehraj

2 April 2020 –
Online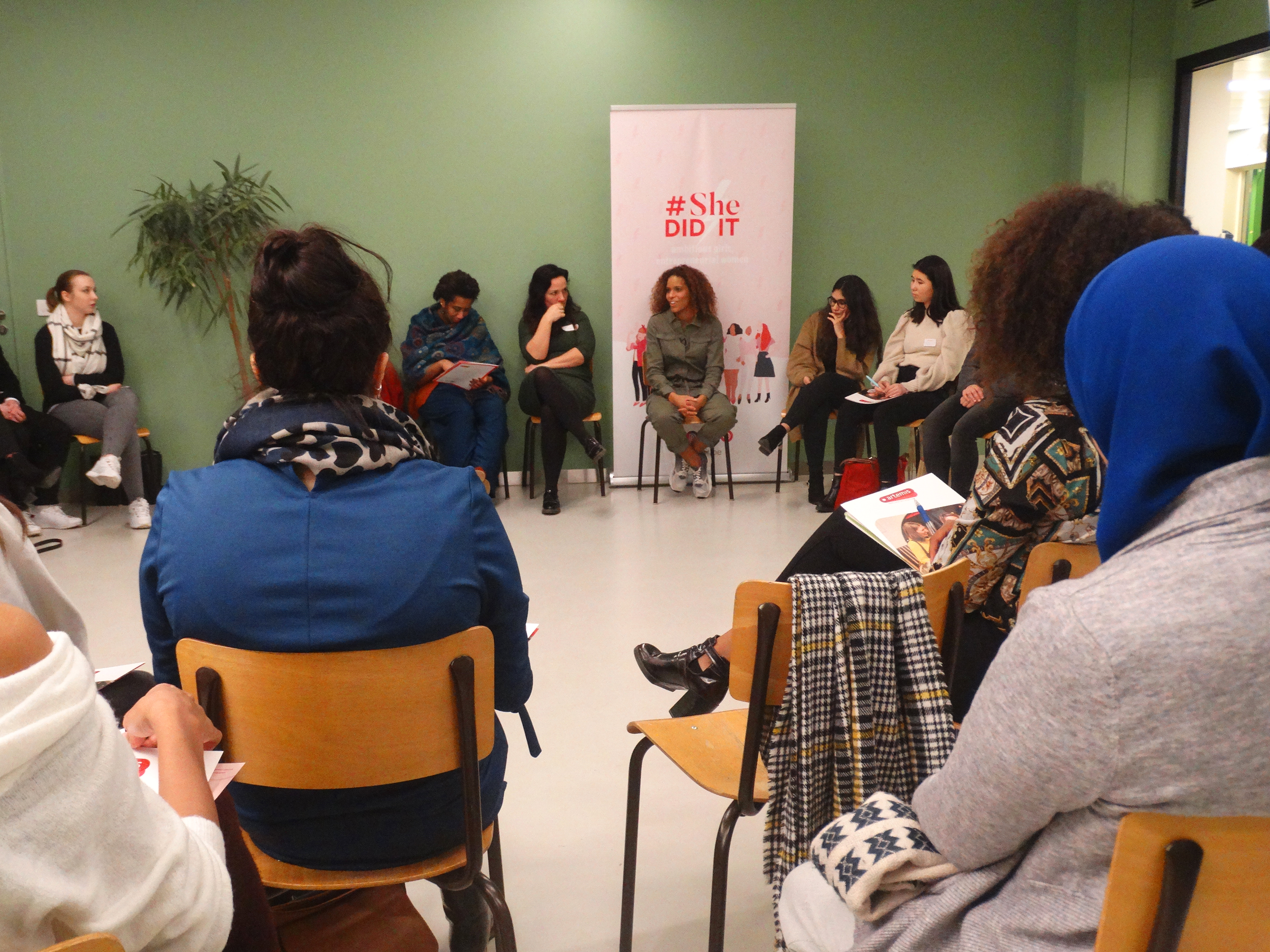 With Hadisa Suleyman

19 February 2020 –
Brussels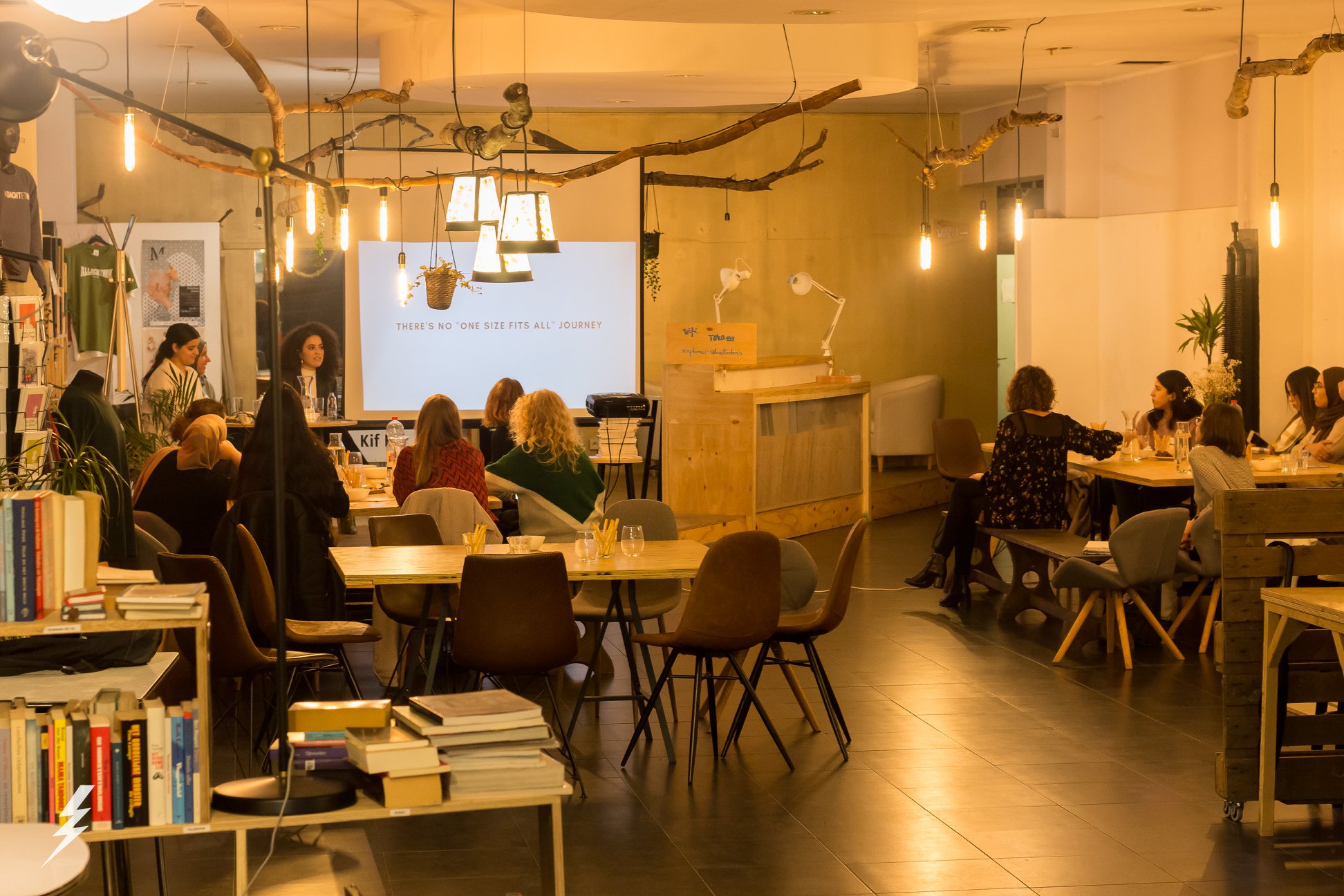 Coaching: Social Entrepreneurship
Met Zehra Özmen

11 december 2019 –
Antwerp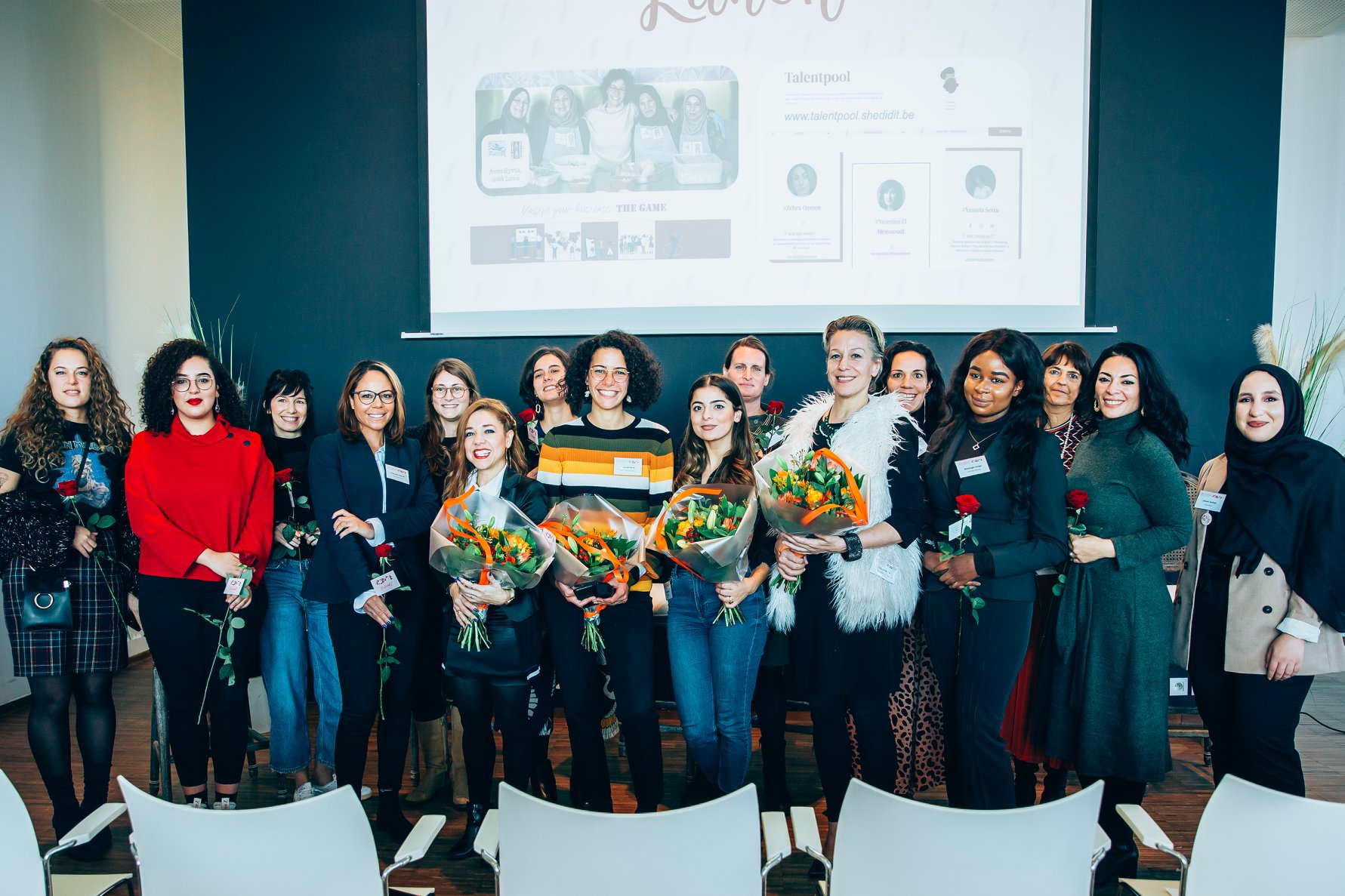 Met #SheDIDIT rolmodellen & Soraya Hayani, Katrin Van Den Troost, Yasmina Kichauat, Emmanuel Iyamu

22 November 2019 –
Ghent