#SheDIDIT events
a safe space to share struggles, learn from others, focus on your growth and expand your network
What we got planned so far
#SheDIDIT hosts monthly workshops, networking events and moments to meet the community in our #SheHUB concept store. The focus is always growing your network by surrounding yourself with inspiring womenpreneurs. And to gain new knowledge and skills!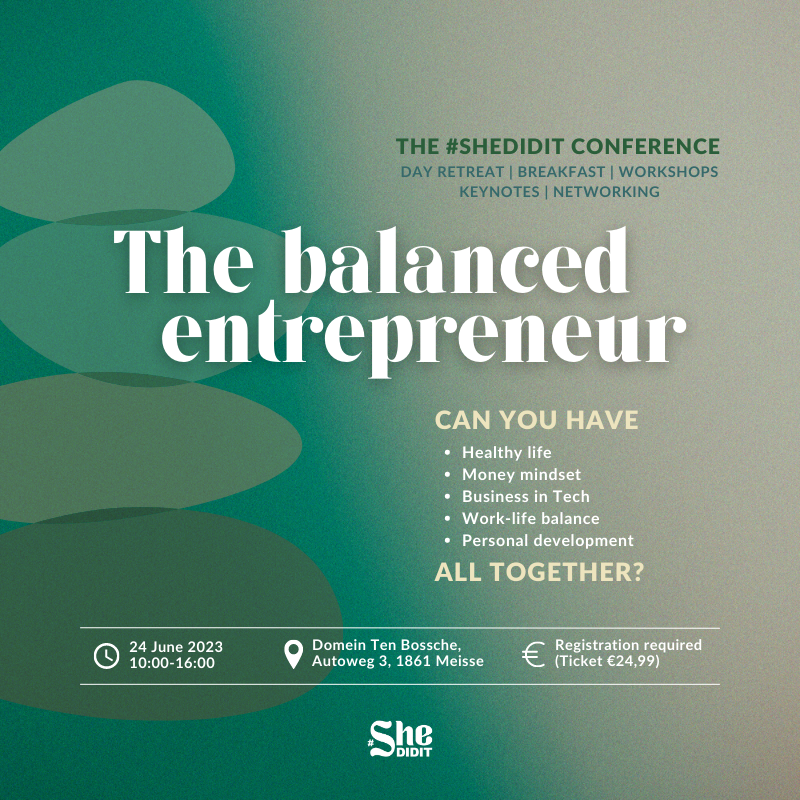 #SheDIDIT Conference: The Balanced Entrepreneur
Saturday 24 June 2023 — 10h tot 16h — Domein Ten Bossche (Meisse)
If you could have it all, would you? Your first answer might be YES, but can you balance it too. Entrepreneurship is more than simply running a business and making money. It's about finding your balance, what you'll willing to give up to achieve your goals. Yes, it often feels like a confrontation, yet it's an important conversation to have.
Join us during the workshops & keynotes with the following questions/topics (speakers will soon be announced):
◽️How to stay physically healthy for your business?
◽️How to view money, is it your friend or foe? What's a good business money mindset?
◽️How do you stay passionate about your business but balance is with family & friends?
◽️How can you use Tech to grow your business, without having a tech background?
◽️How can you grow into the entrepreneur of your dreams?
You can do anything, but not everything. That's why we're leaving the city rush and arriving at Domein Ten Bossche for a day treat. Surrounded by nature's peaceful sounds we'll tackle different topics that influence us all. Remember, it's not about having it all, but about receiving the right tools to mange it all.
Before the workshops & keynotes we have a royal business breakfast planned. Afterwards you also get the chance to catch up or network with the participants during the closing networking moment.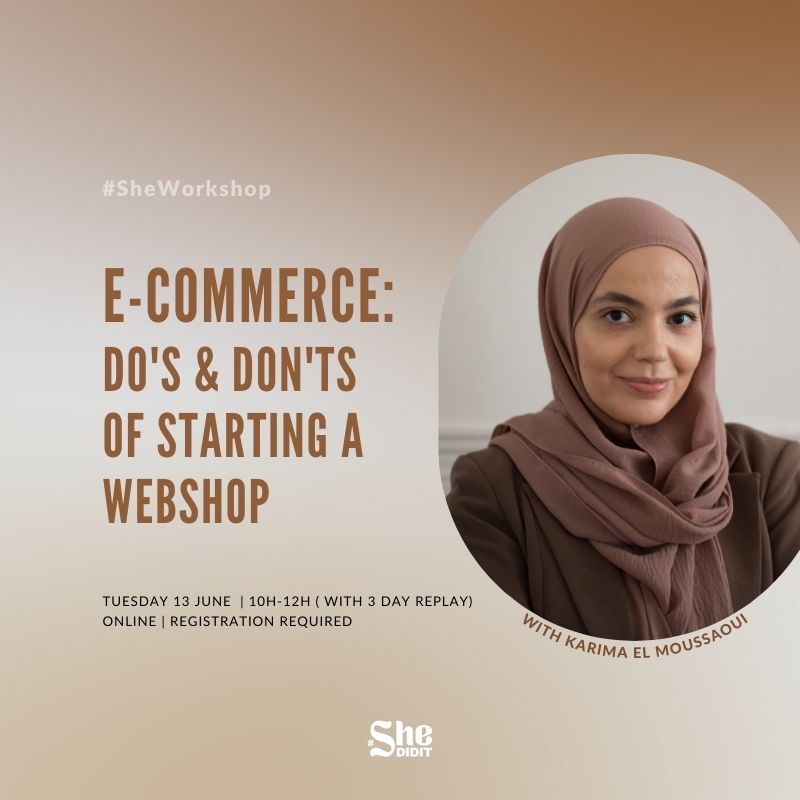 Workshop: do's & don'ts of starting a webshop
Tuesday 13 June — Live at 10h, online replay available for 3 days
In today's world having a webshop seems barely unthinkable for some. If you've been playing around with the idea of starting your own webshop, or your current one isn't going as smoothly as hoped, get the valuable tips & tricks and knowledge from Karima. Besides being our Head Business Coach, she also ran a succesfull webshop "Noah & Sisi" for three years before passing it on.
Having a webshop isn't simply about the webshop itself, but also how you attract visitors, the SEO, reviews, branding,… During the workshop Karima will take you through the different stages of how to build your webshop but also to maintain it! More specifically:
Design webshop (branding & photos)

Build your own webshop with 

Shopify/Wix/Woocommerce
User Experience (UX)
Data from your webshop (visitors, conversion rate, AOV, etc)
How many visitors do you need monthly to reach your financial goals?
How do you ensure that you attract visitors?
SEO & Google shopping
Reviews on your webshop
NEW: We often get the question if our workshops are recorded for those who can't make it, this will be the first one to be live at 10h and avalaible for three days to view afterwards (you do need to sign up though).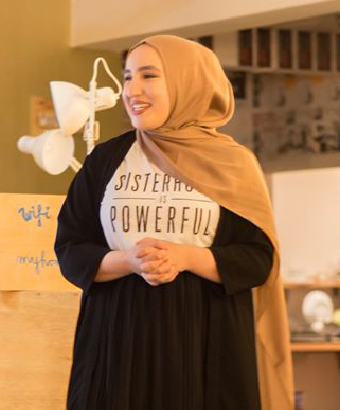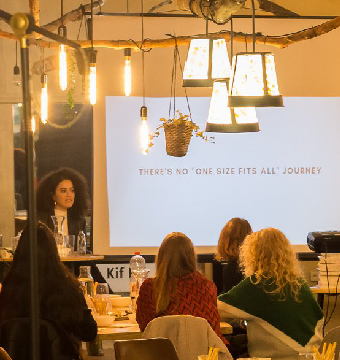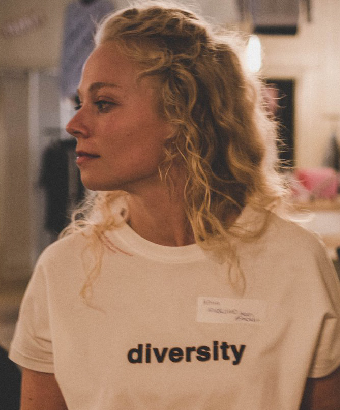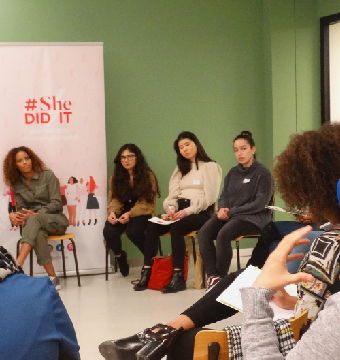 & more events organized ever since
goal: where diversity meets womenpreneurship
"
From my experience the #SheDIDIT platform brings women from diverse backgrounds together and highlights ambitious women with entrepreneurial dreams. I've walked away from each event with a new found passion to pursue my dreams and the resources to do it."
— Myriam de Groef
Curious about the themes and type of events we've held since our start in 2018? Don't forget to look up our amazing womenpreneurs speakers!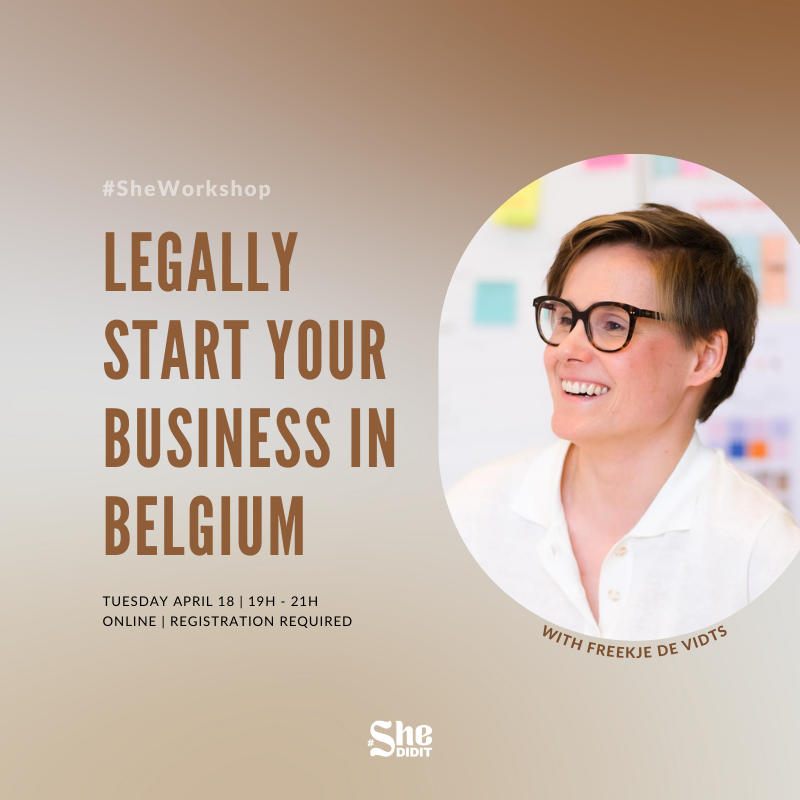 Legally start your business in Belgium
with Freekje De Vidts
18 April 2023  –  Online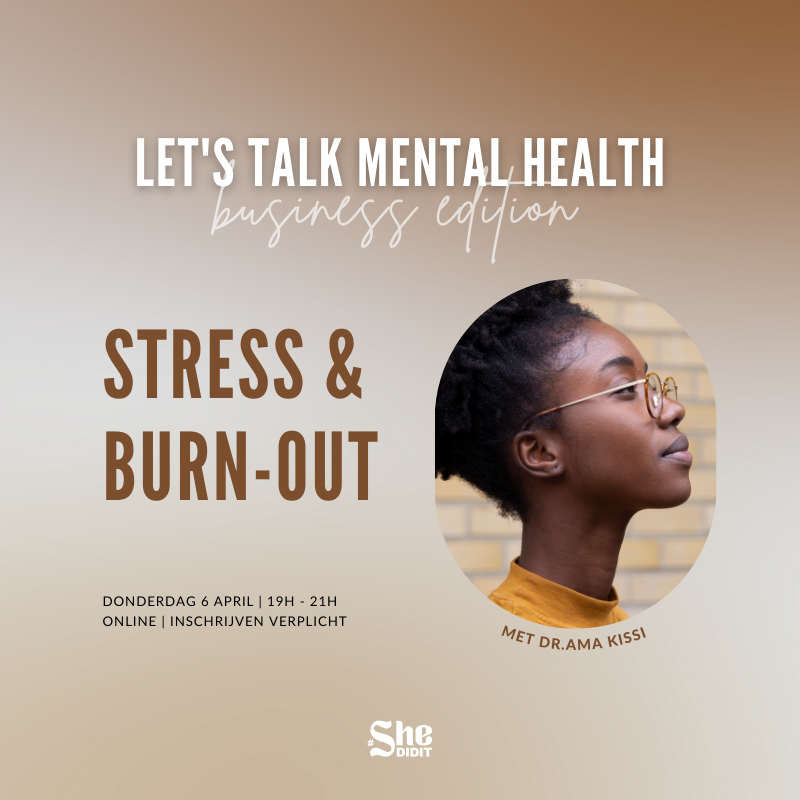 Let's talk mental health: stress & burn-out
with Ama Kissi
6 April 2023  –  Online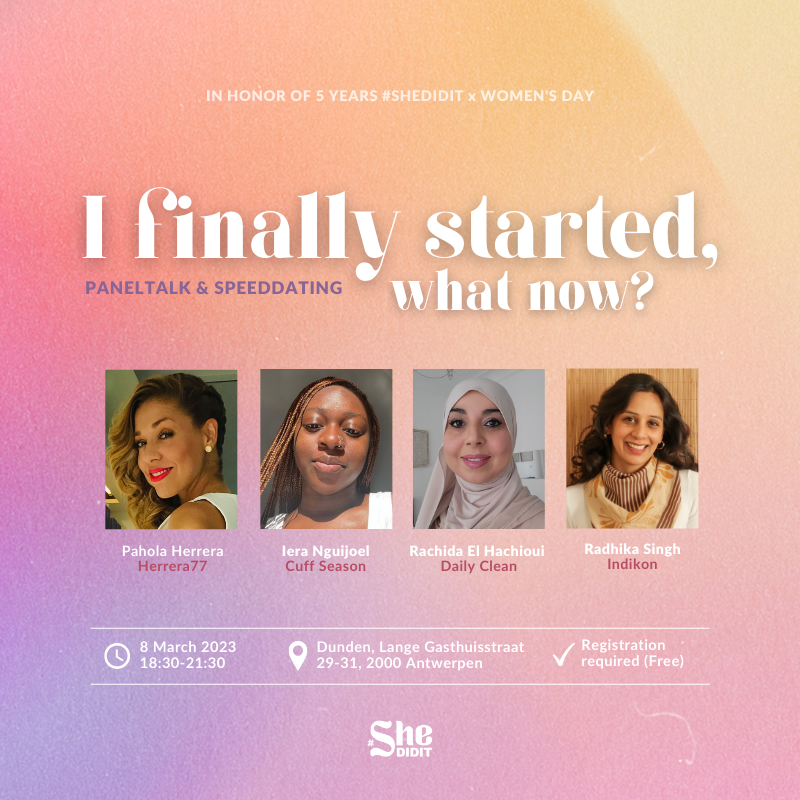 Networking event: I finally started, what now?
with Pahola Herrera, Iera Sih Nguijoel, Rachida El Hachioui & Radhika Singh
8 March 2023  –  Antwerp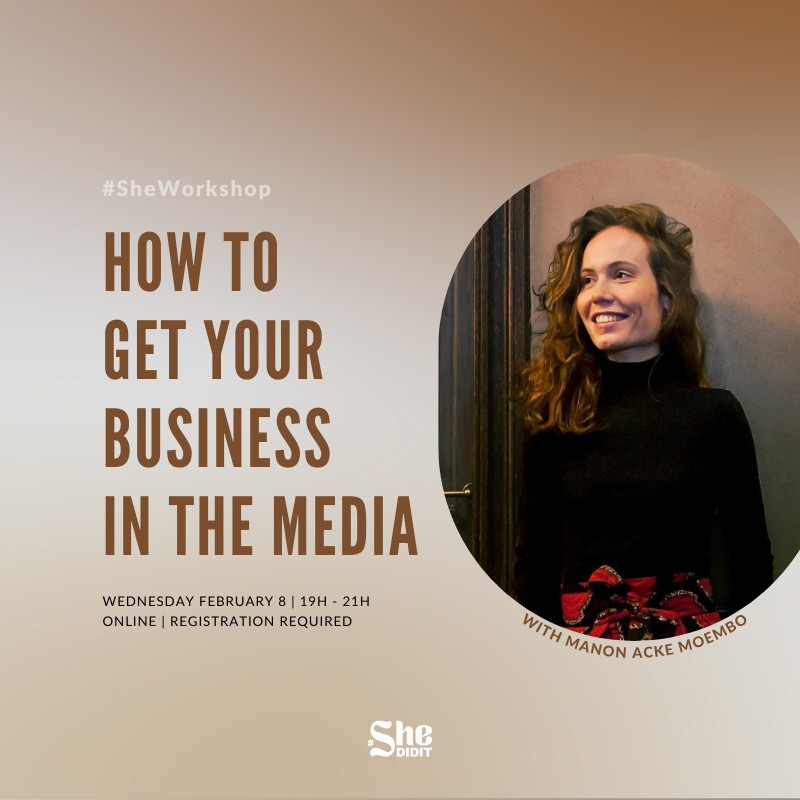 Workshop: How to get your business in the media
with Manon Acke Moembo
8 February 2023  –  Online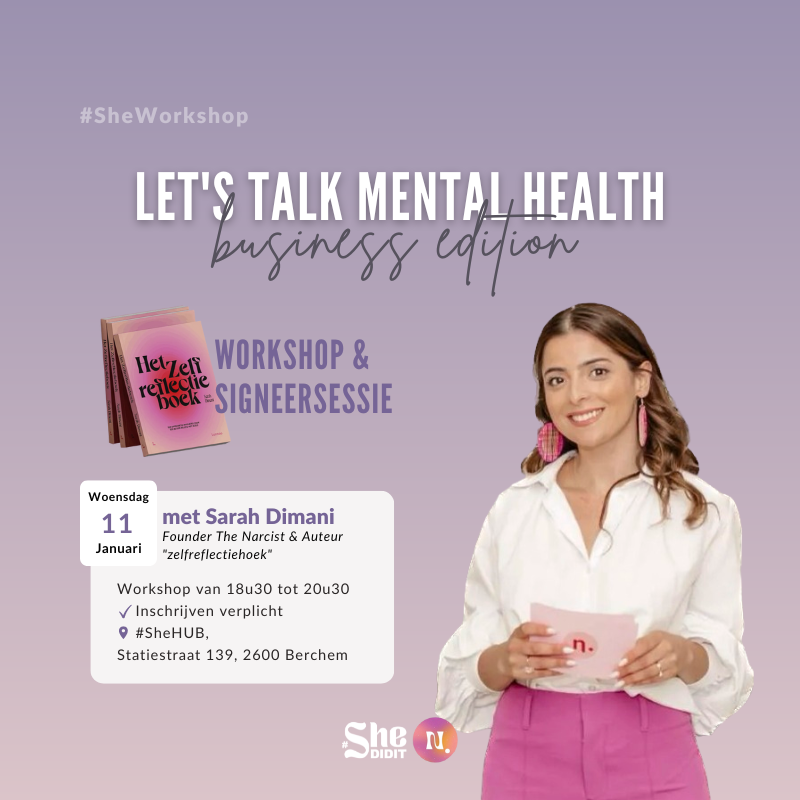 Let's talk mental health: zelfreflectie
with Sarah Dimani
11 January 2023  –  Antwerp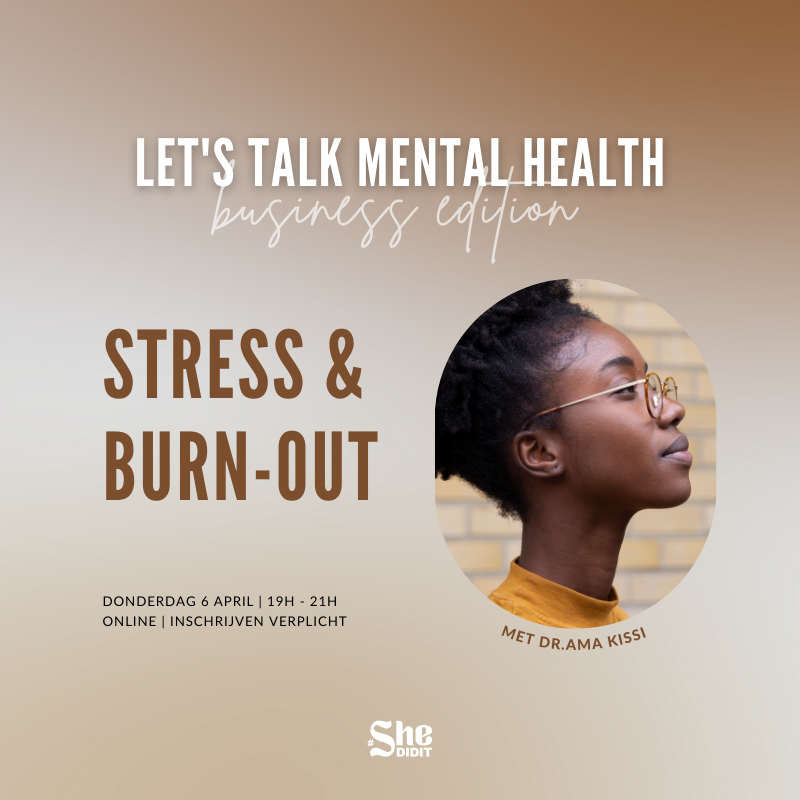 Let's talk mental health: note to self
with Christelle Baseke Kaisala
24 May 2023  –  #SheHUB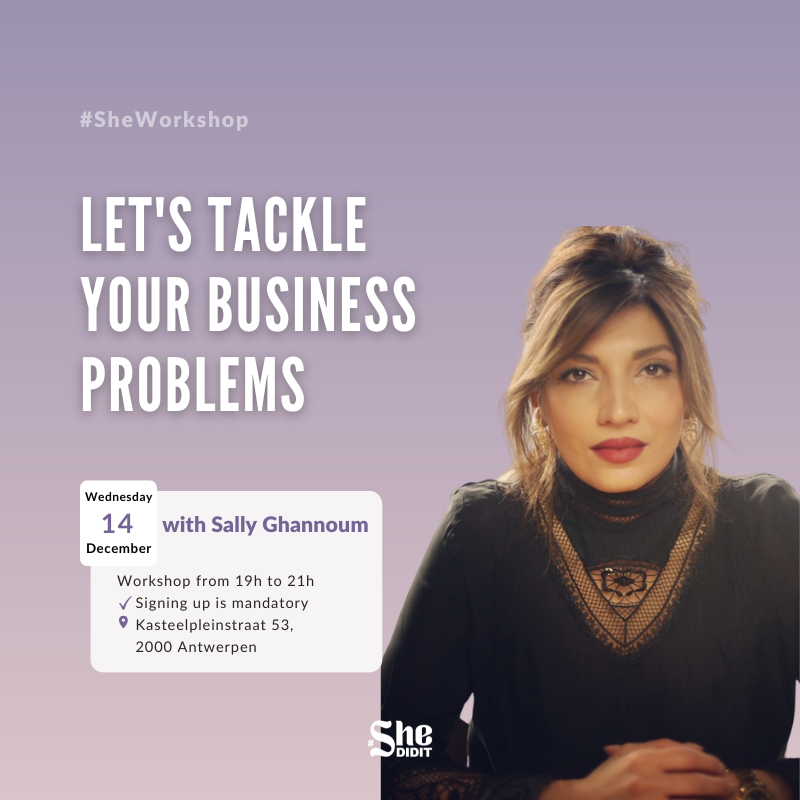 Let's tackle your business problems
with Sally Ghannoum

14 December 2022 –

Antwerp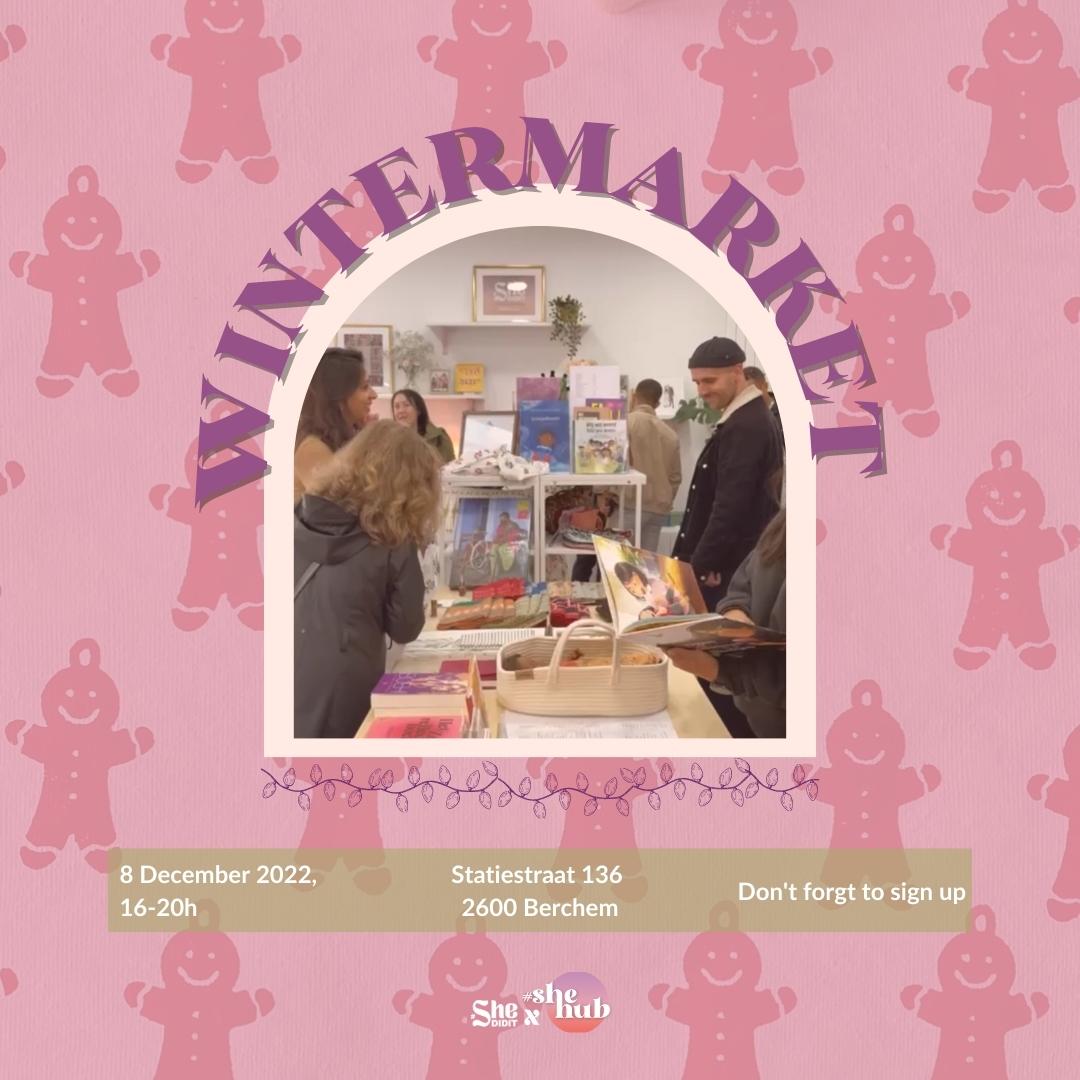 #SheHUB: wintermarket + meet the womenpreneurs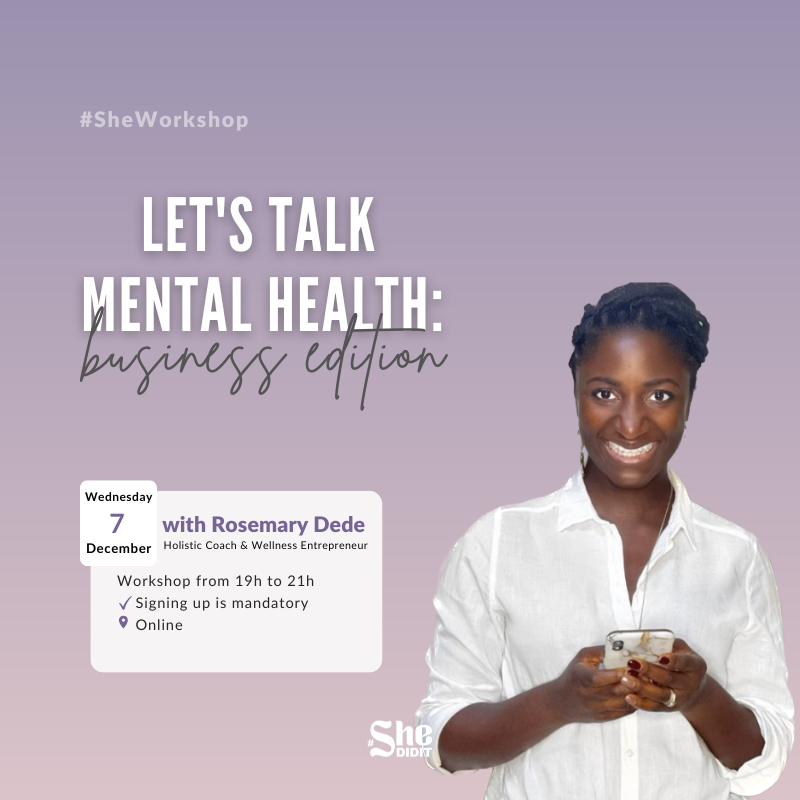 Let's talk mental health: doorbreek je negatief zelfbeeld
with Rosemary Dede

7 December 2022 –

Online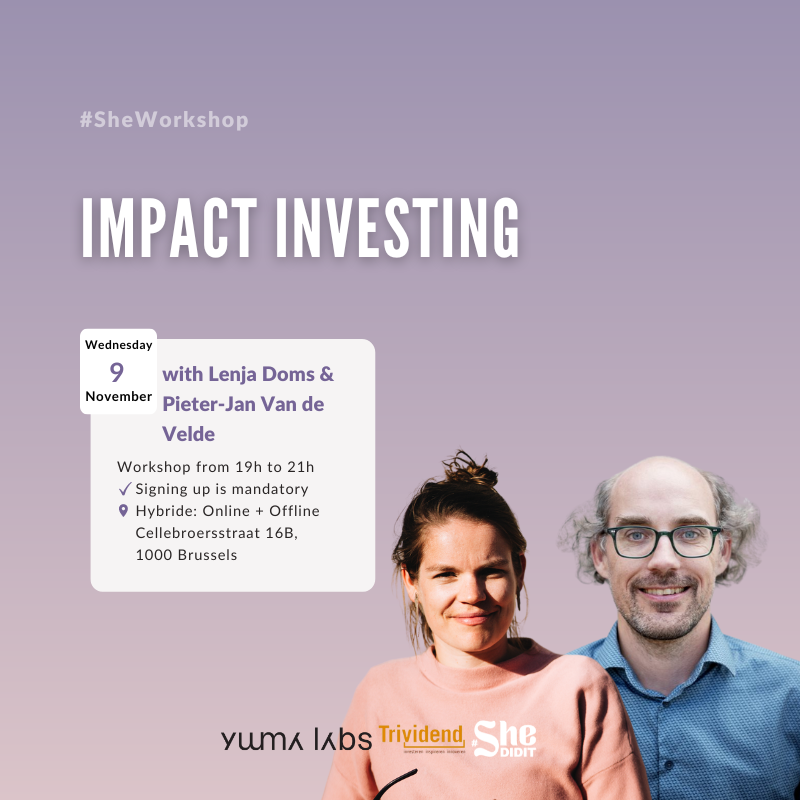 Workshop: Impact investing
with Lenja Doms & Pieter-Jan Van de Velde

9 November 2022 –

Online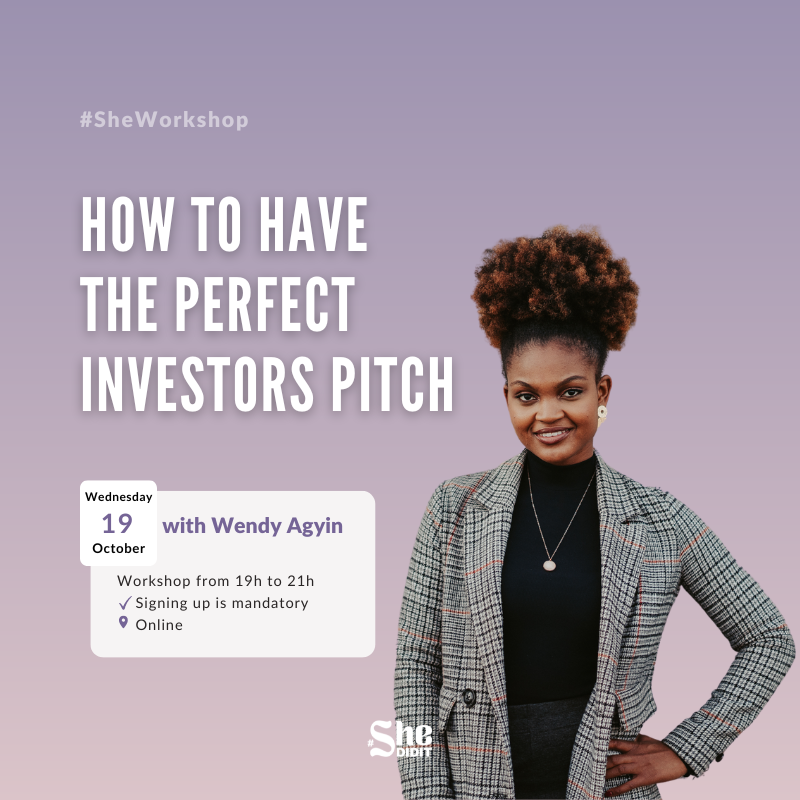 Workshop: How to have the perfect investors pitch
with Wendy Agyin
19 October 2022 –  Online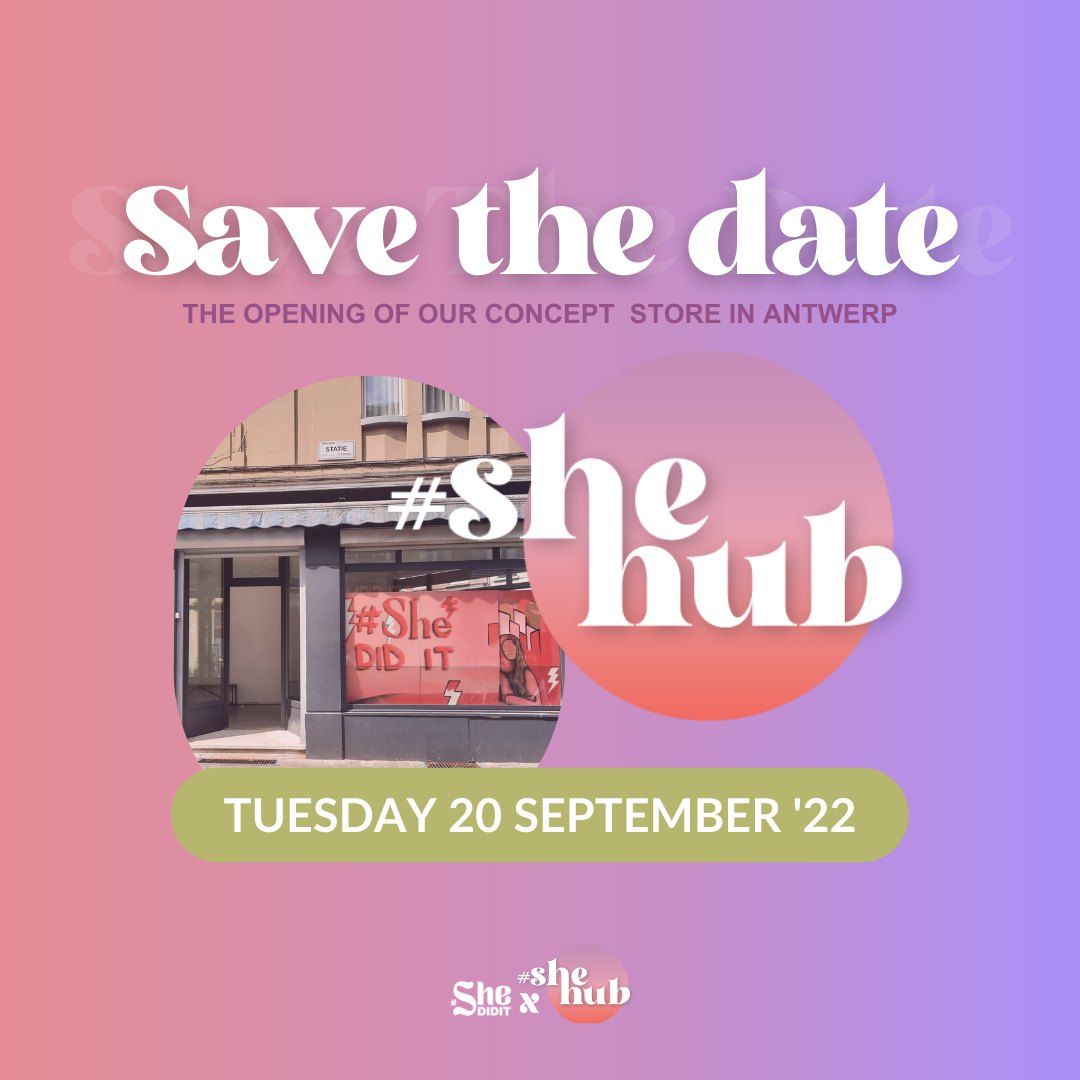 Opening #SheHUB
Our first concept store! Statietraat 139, Berchem

20 September 2022 –

Antwerp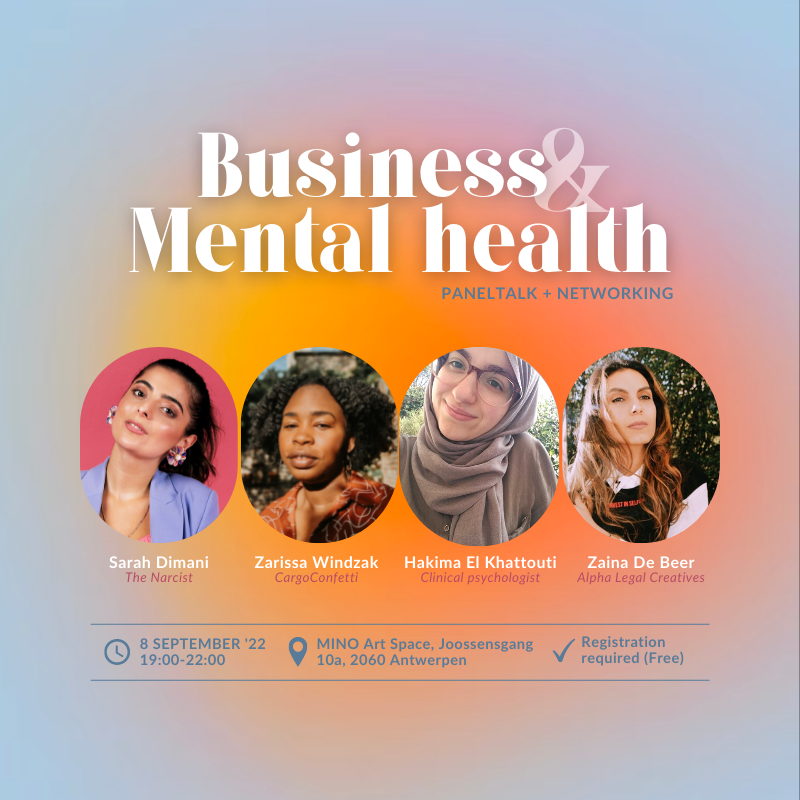 Network: Business & Mental health
with Zarissa Windzak, Sarah Dimani, Hakima El Khattouti and Zaina De Beer

8 September 2022 –

Antwerp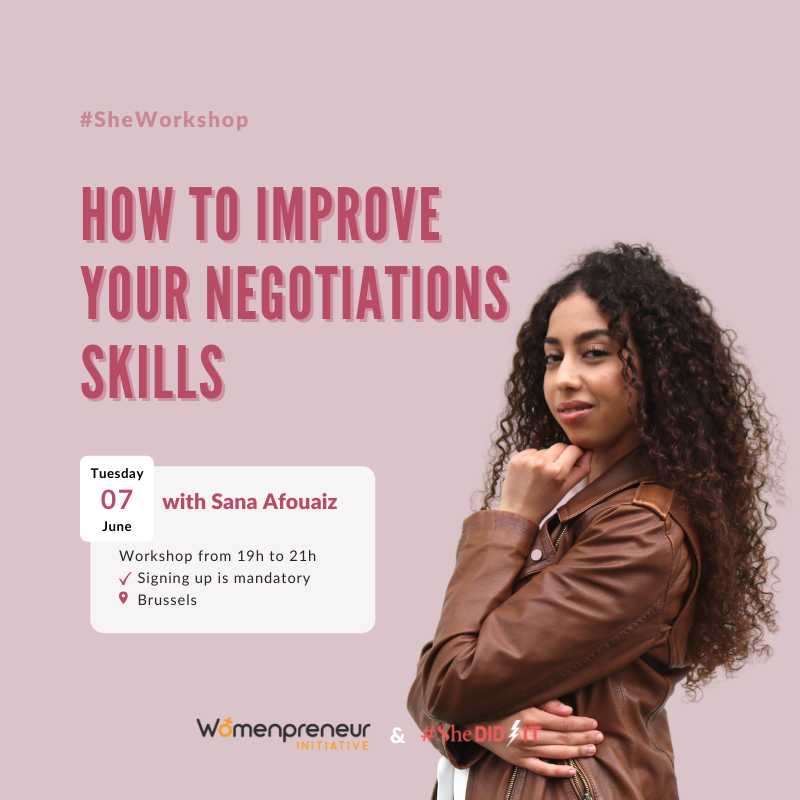 Workshop: How to improve your negotiations skills
with Sana

Afouaiz



7 June 2022 –

Online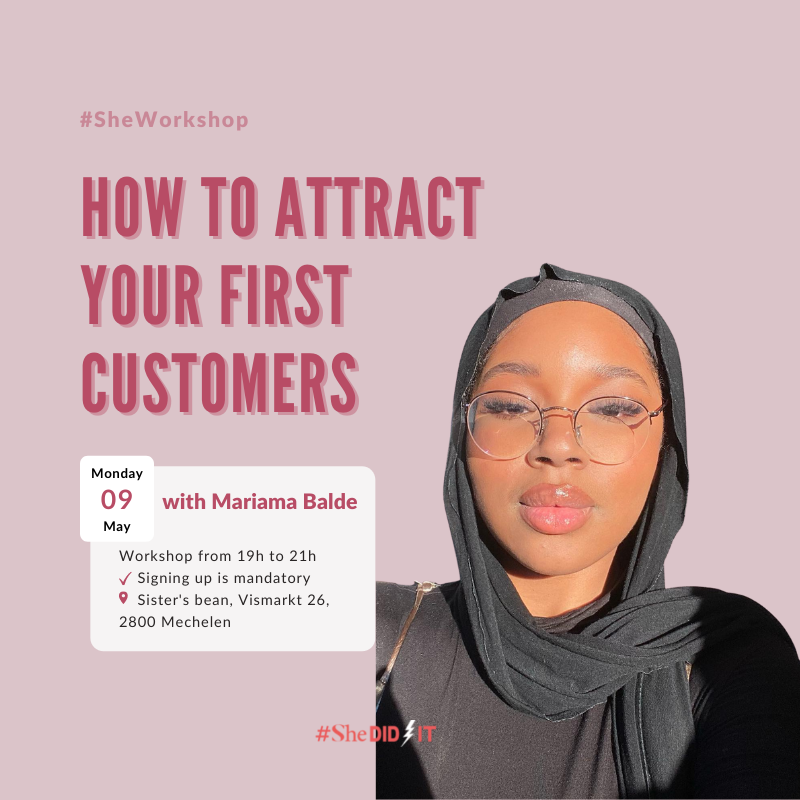 Workshop: How to attract your first customers
with Mariama Balde

9 May 2022 –

Mechelen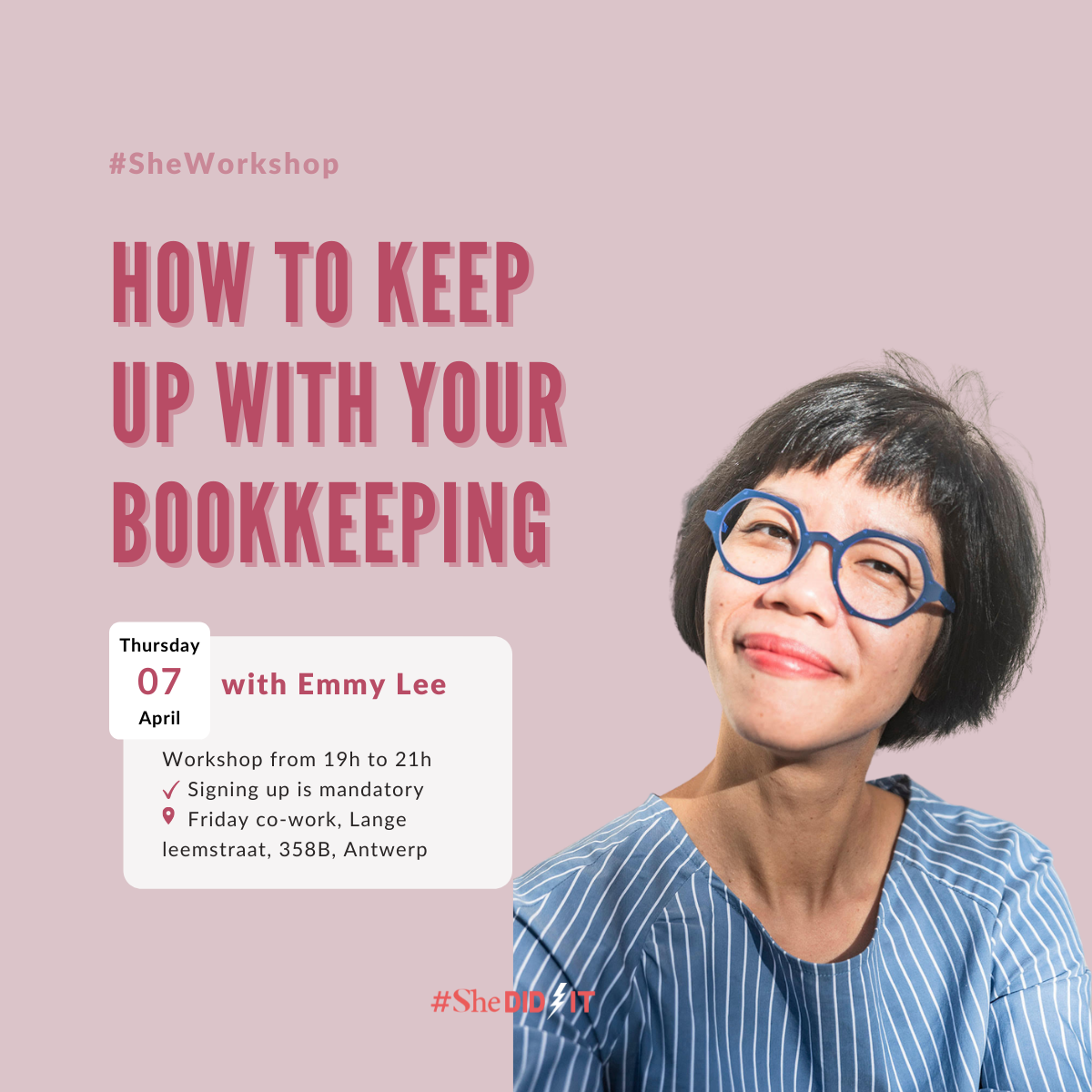 Workshop: How to keep up with your bookkeeping
with Emmy Lee

7 April 2022 –

Antwerp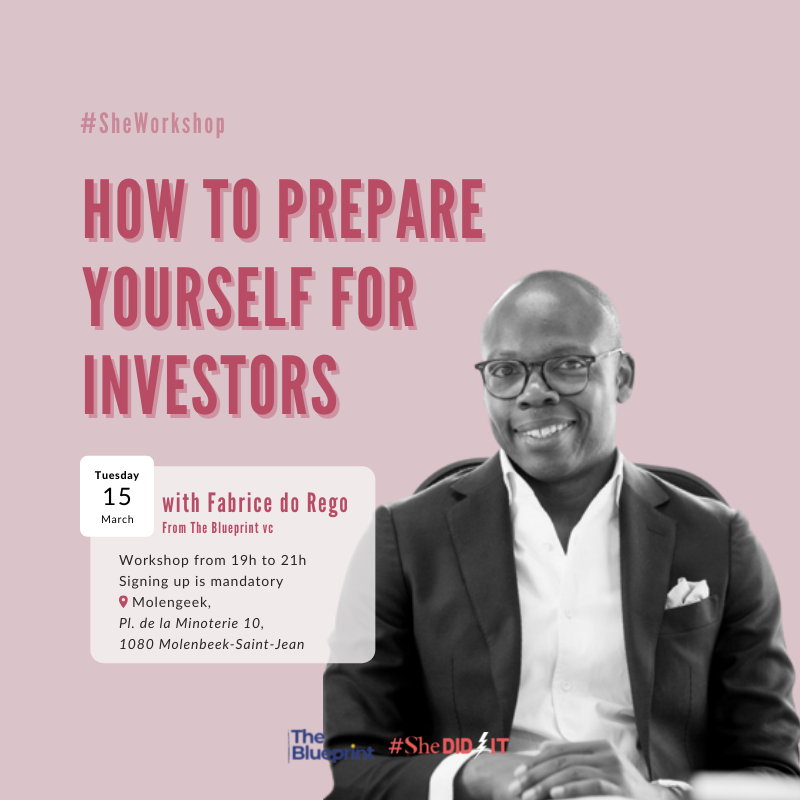 Workshop: How to prepare yourself for investors
with Fabrice do Regro

15 March 2022 –

Online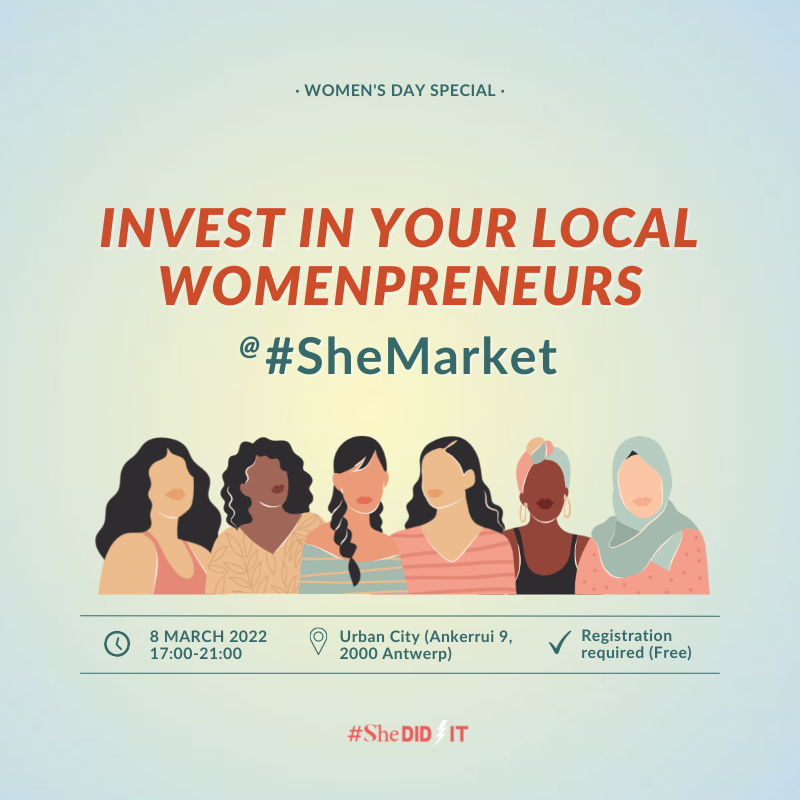 #SheMarket
with 15 different womenpreneurs

8 March 2022 –

Antwerp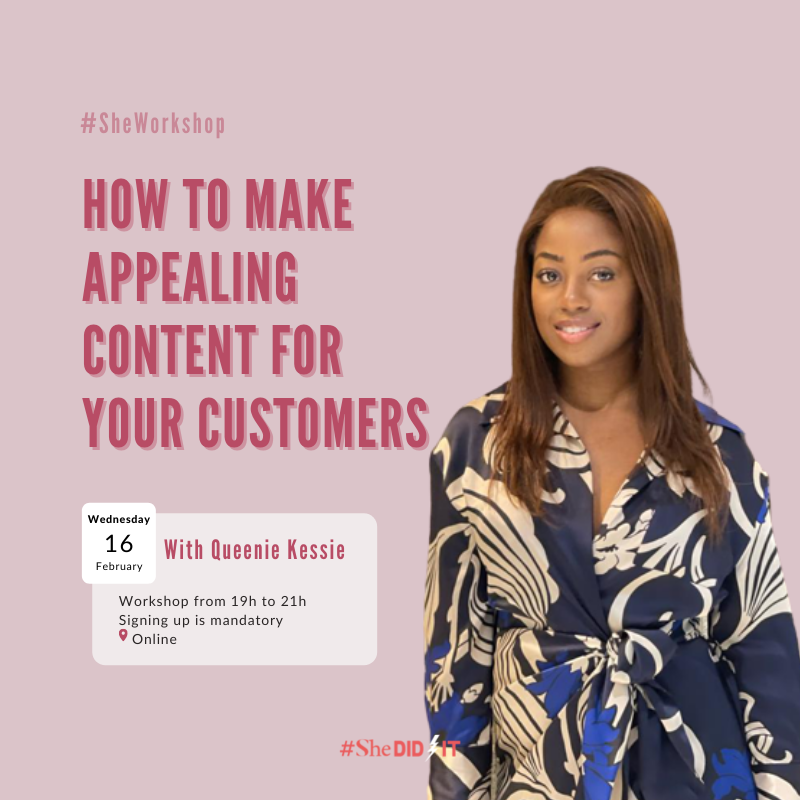 Workshop: How to make appealing content for customers
with Queenie Kessie

16 February 2022 –

Online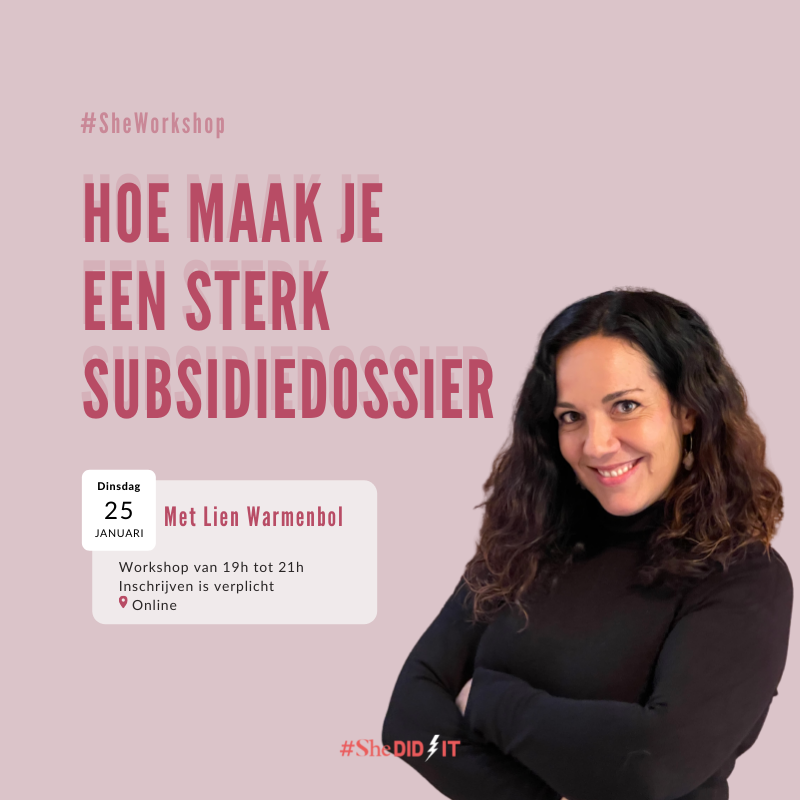 Workshop: Hoe maak je een sterk subsidiedossier
with Lien Warmenbol (#SheDIDIT)

25 January 2022 –

Online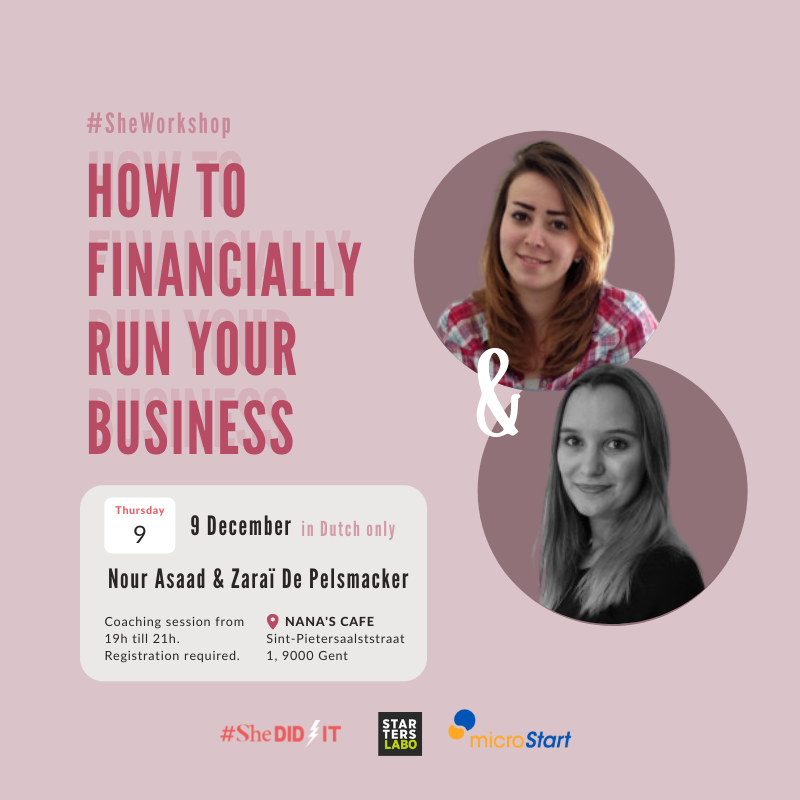 Workshop: How to financially run your business
with Nour Asaad & Zaraï de

Pelsmacker



9 December 2021 –

Ghent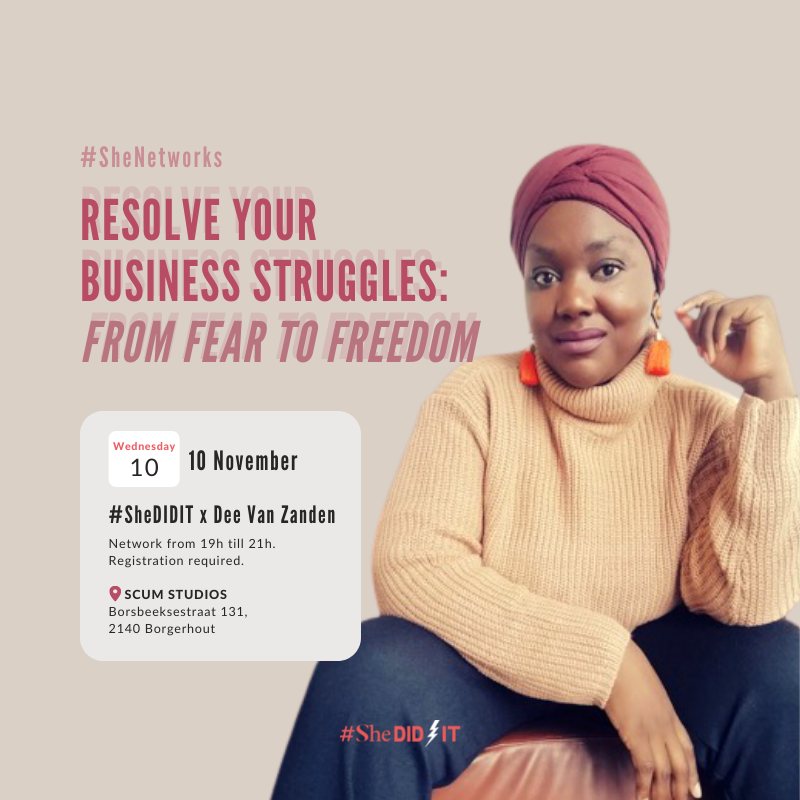 Network/Workshop: Resolve your business struggles — from fear to freedom
with Dee van Zanden

10 November 2021 –

Antwerp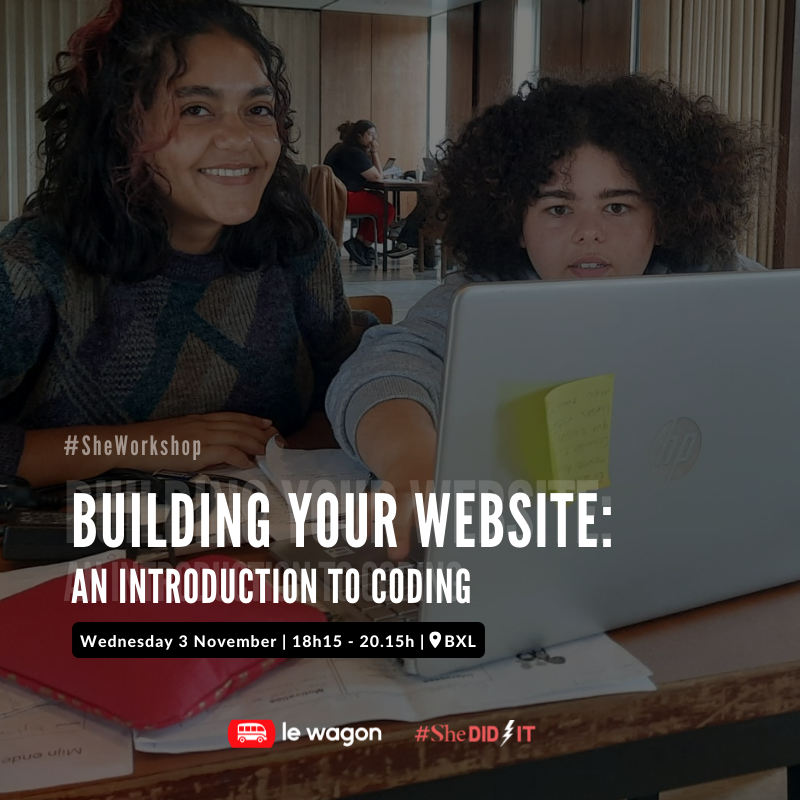 Workshop: building your website — an introduction to coding
with LeWagon Brussels

3 November 2021 –

Brussels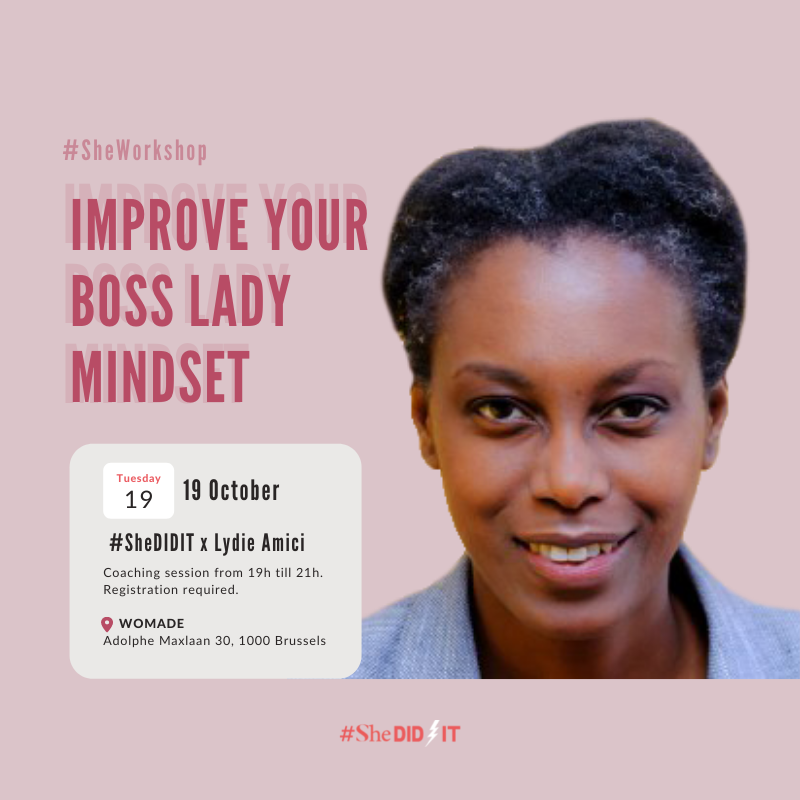 Workshop: Improve you boss lady mindset
with

Lydie Amici



20 October 2021 –

Brussels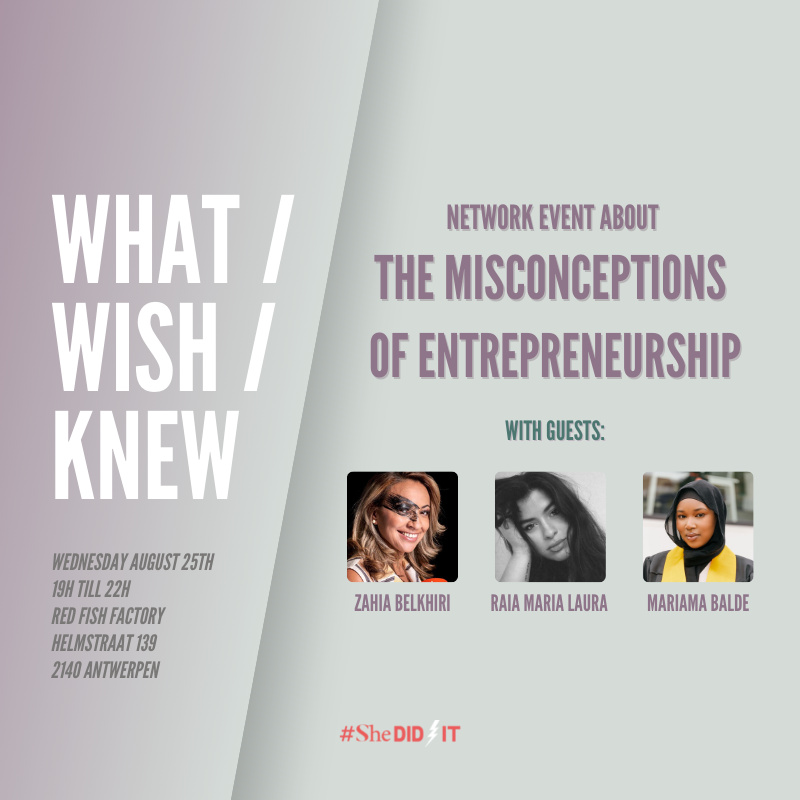 Network: the misconceptions of entrepreneurship
with

Zahia Belkhiri, Raia Maria Laura and Mariama Balde



25 August 2021 –

Antwerp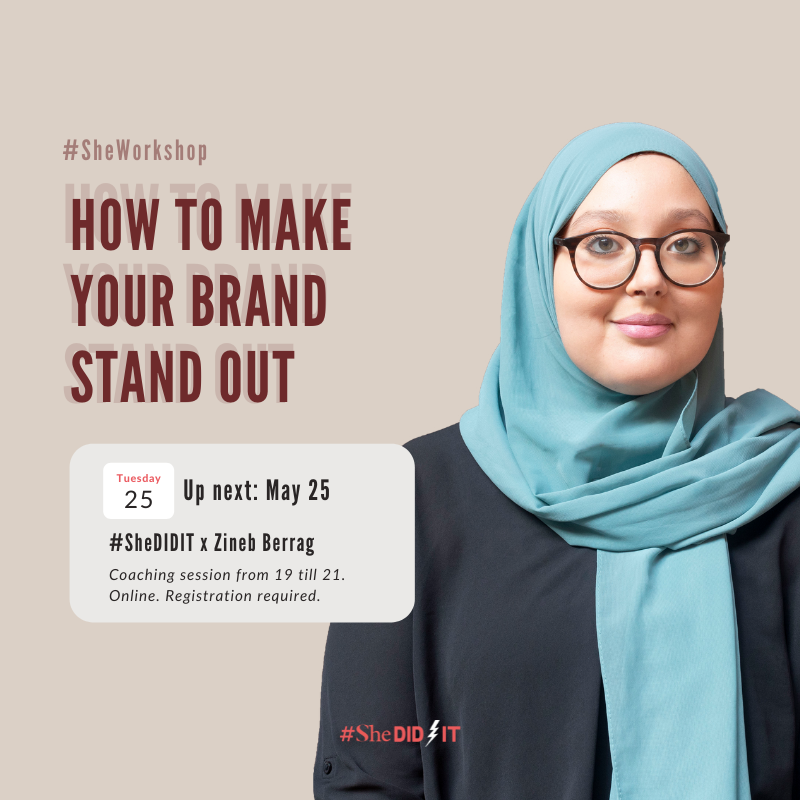 Workshop: How to make your brand stand out
with

Zineb Berrag



25 May 2021 –

Online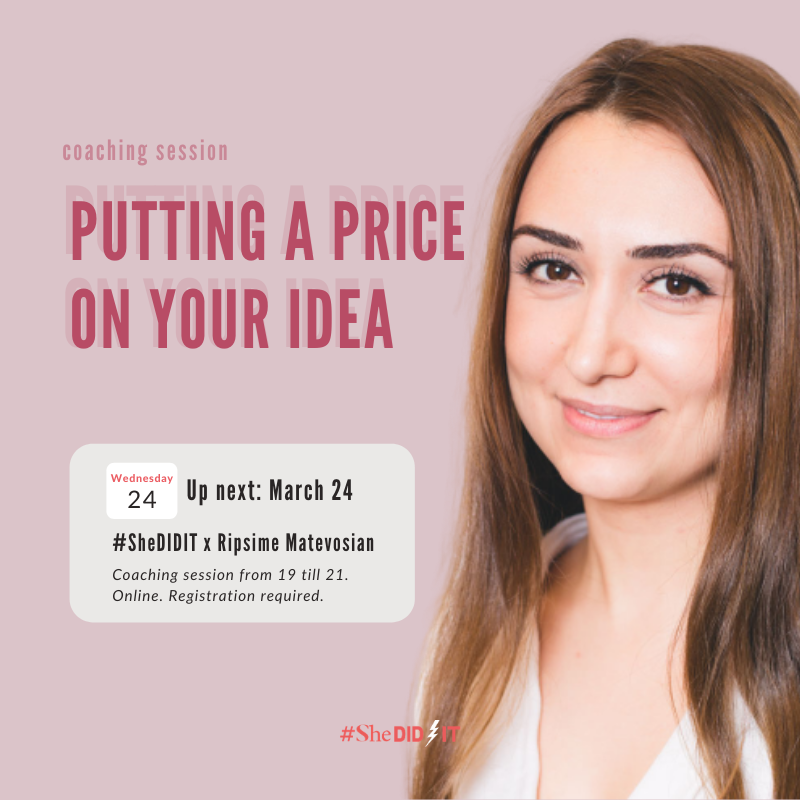 Workshop: Putting a price on your idea
with

Ripsime Matevosian



24 March 2021 –
Online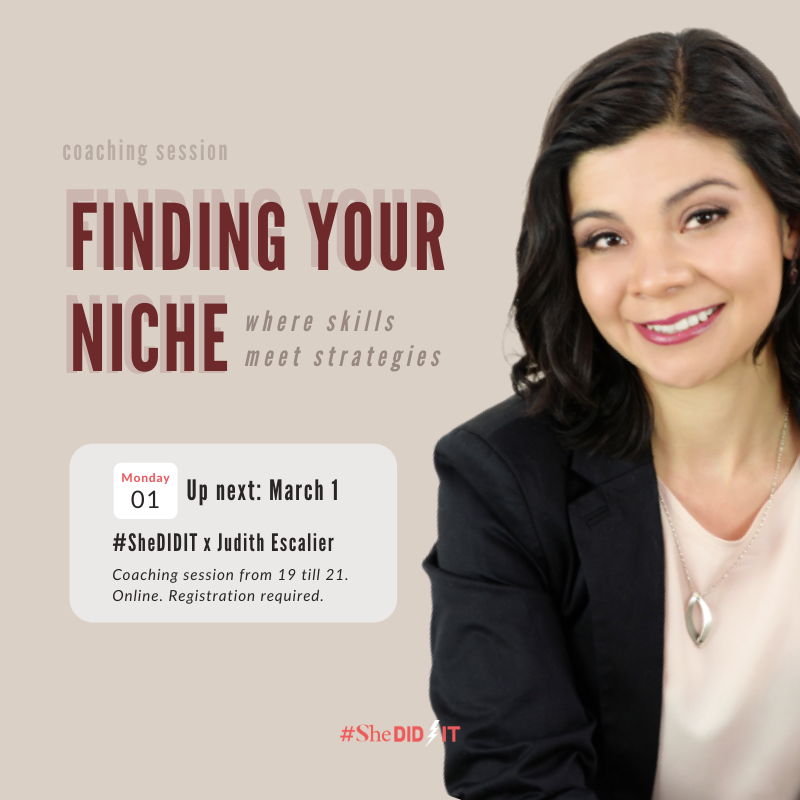 Workshop: finding your niche
with Judith Escalier

3 March 2021 –
Online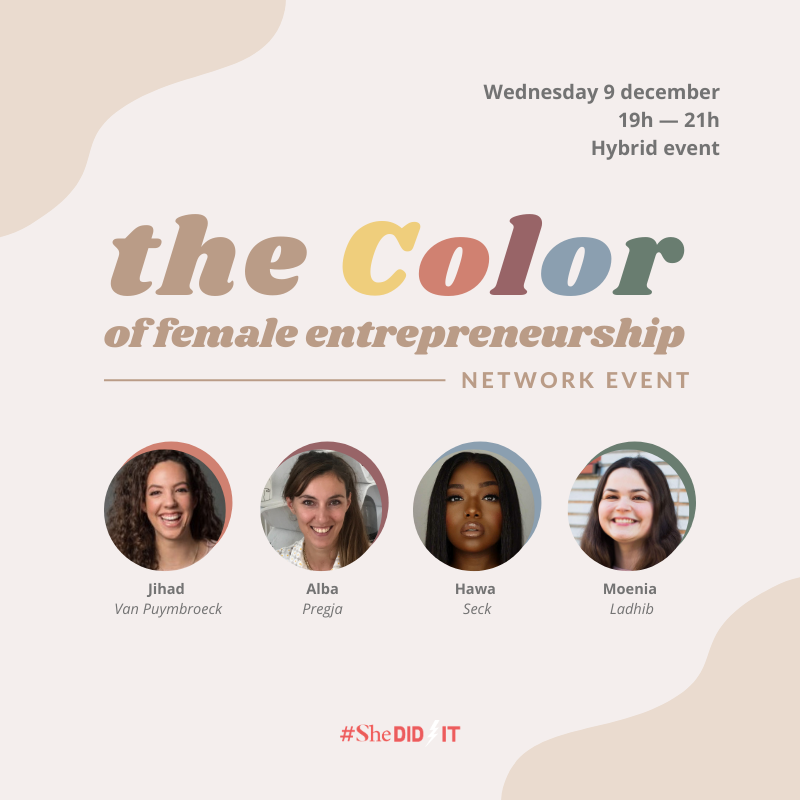 Netwerk: the color of female entrepreneurship
With Jihad van Puymbroeck, Alba Pegja, Hawa Seck & Moenia Ladhib

09 December 2020 –
Online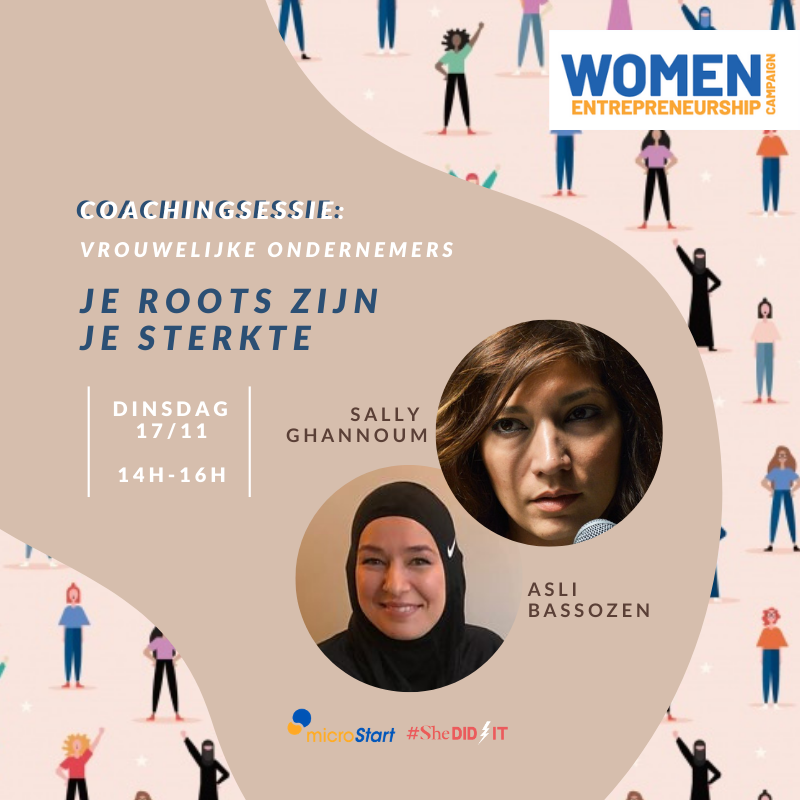 Coaching: vrouwelijke ondernemers - je roots zijn je sterkte
With Sally Ghannoum & Asli Bassozen i.s.m. Microstart

17 November 2020 –
Online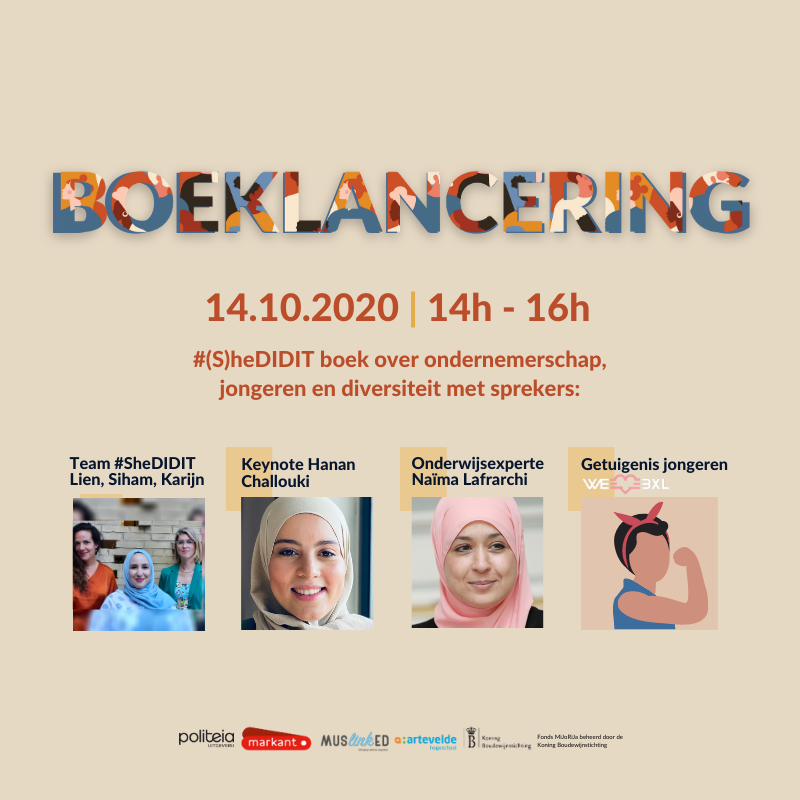 Boeklancering: over ondernemerschap, jongeren en diversiteit
With Hanan Challouki, Naïma Lafrarchi, WeLoveBXL jongeren en #SheDIDIT

14 October 2020 –

Hybride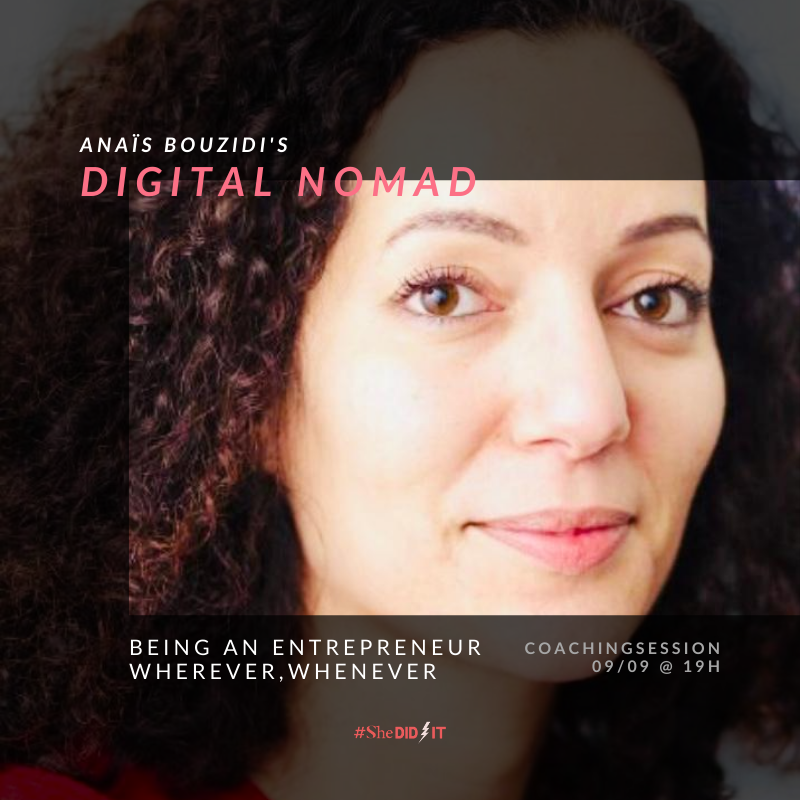 Coaching: Being a digital nomad: being an entrepreneur whenever, wherever
With Anaïs Bouzidi

9 September 2020 –
Online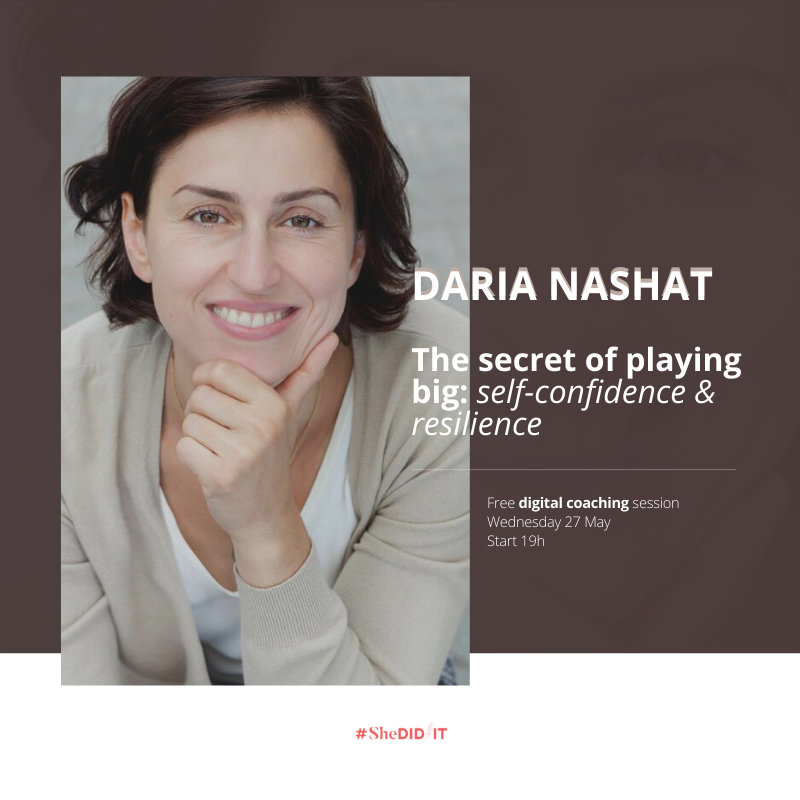 Coaching: The secret of playing big - self-confidence & resilience
With Daria Nashat

27 May 2020 –
Online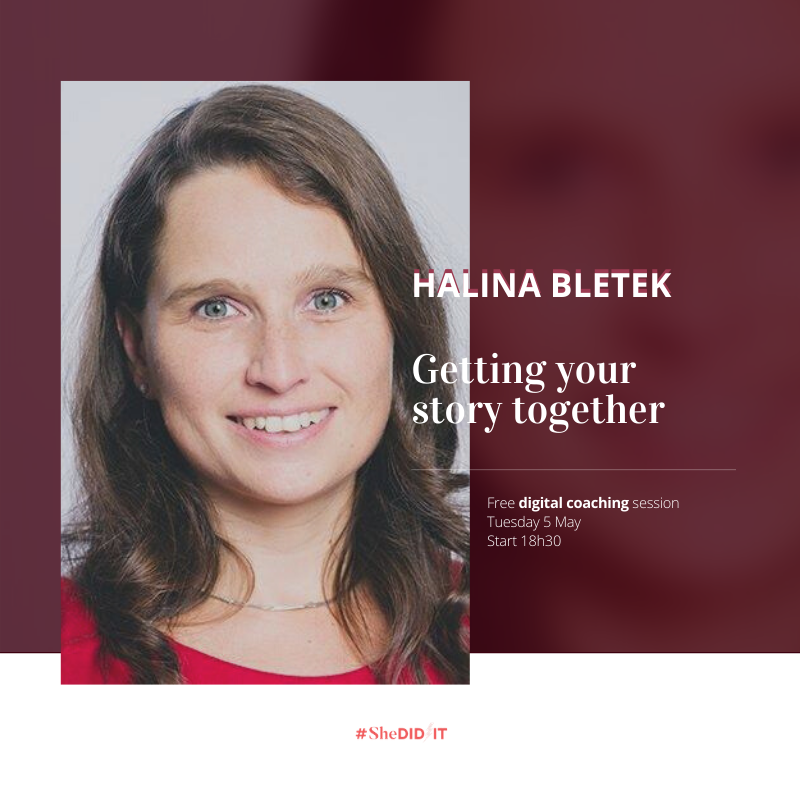 Coaching: Getting your story together
With Halina Bletek

5 May 2020 –
Online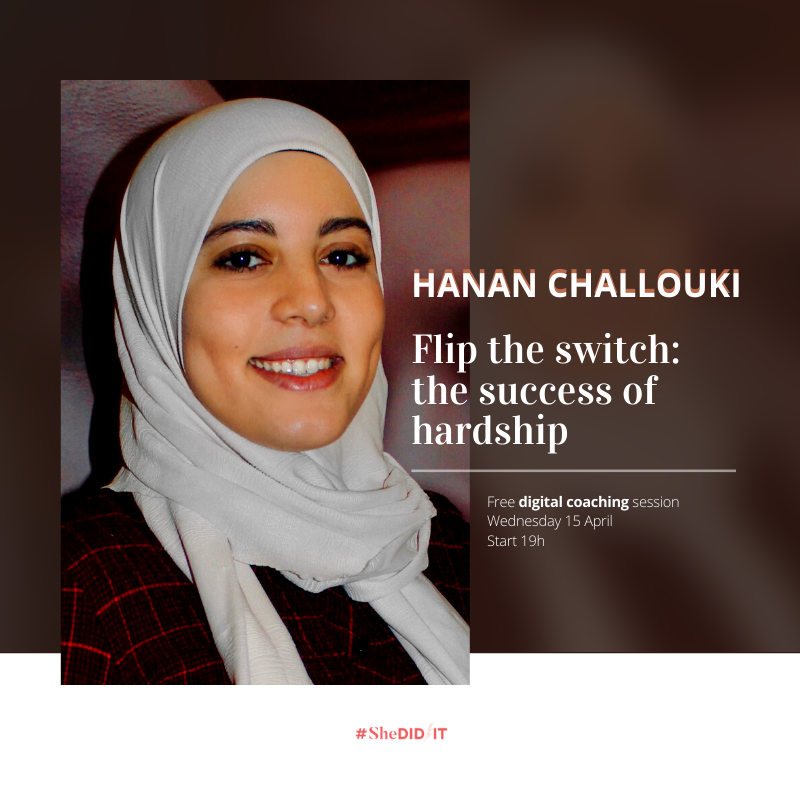 Coaching: Flip the switch - the success of hardship
With Hanan Challouki

15 April 2020 –
Online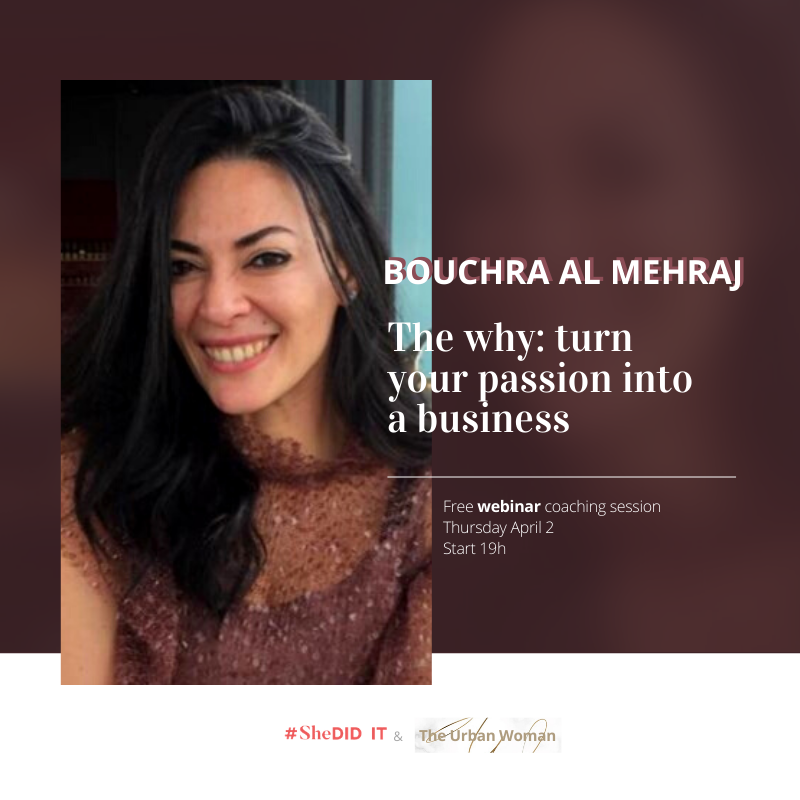 Coaching: The why - turn your passion into a business
With Bouchra Al Mehraj

2 April 2020 –
Online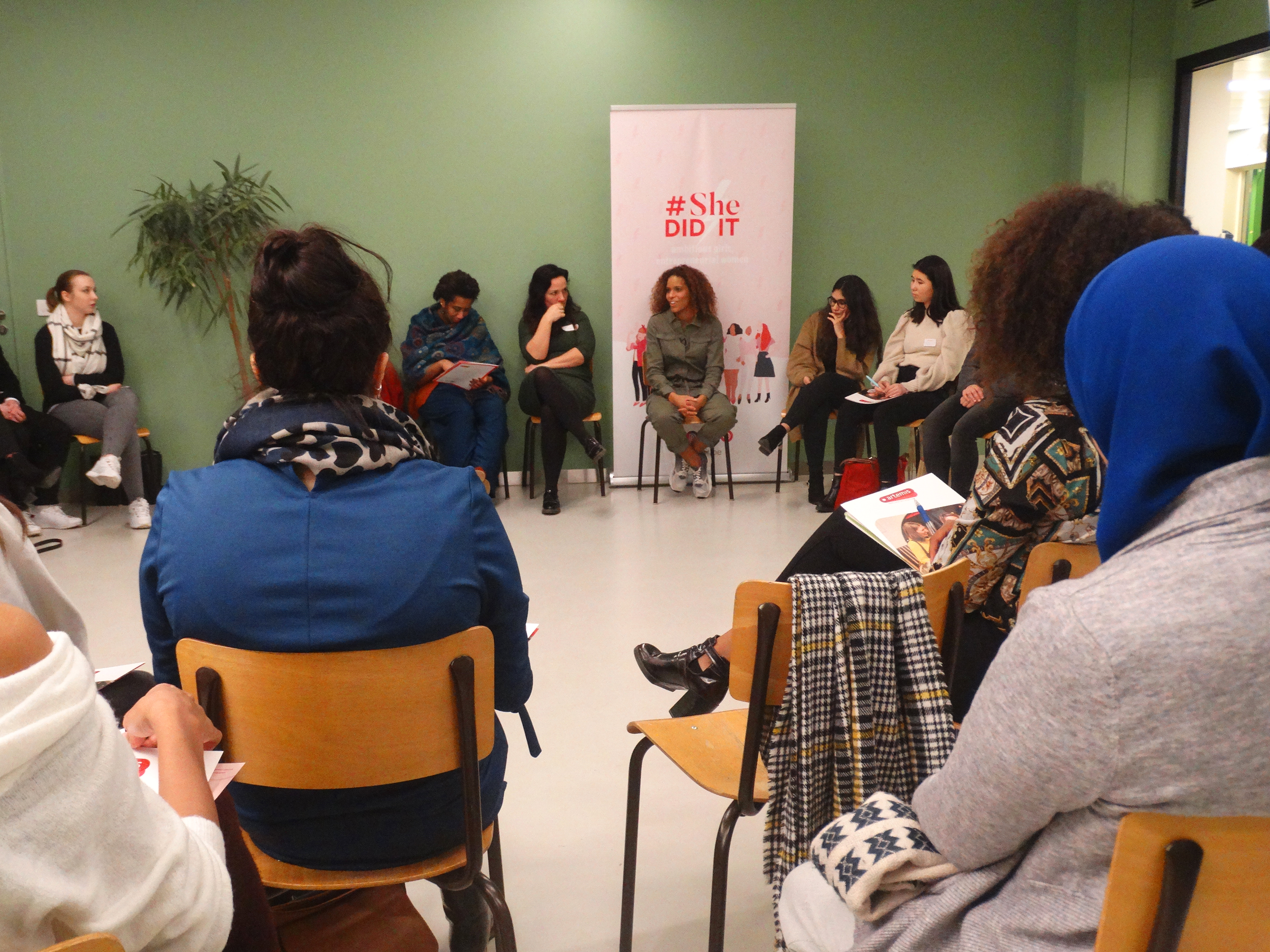 With Hadisa Suleyman

19 February 2020 –
Brussels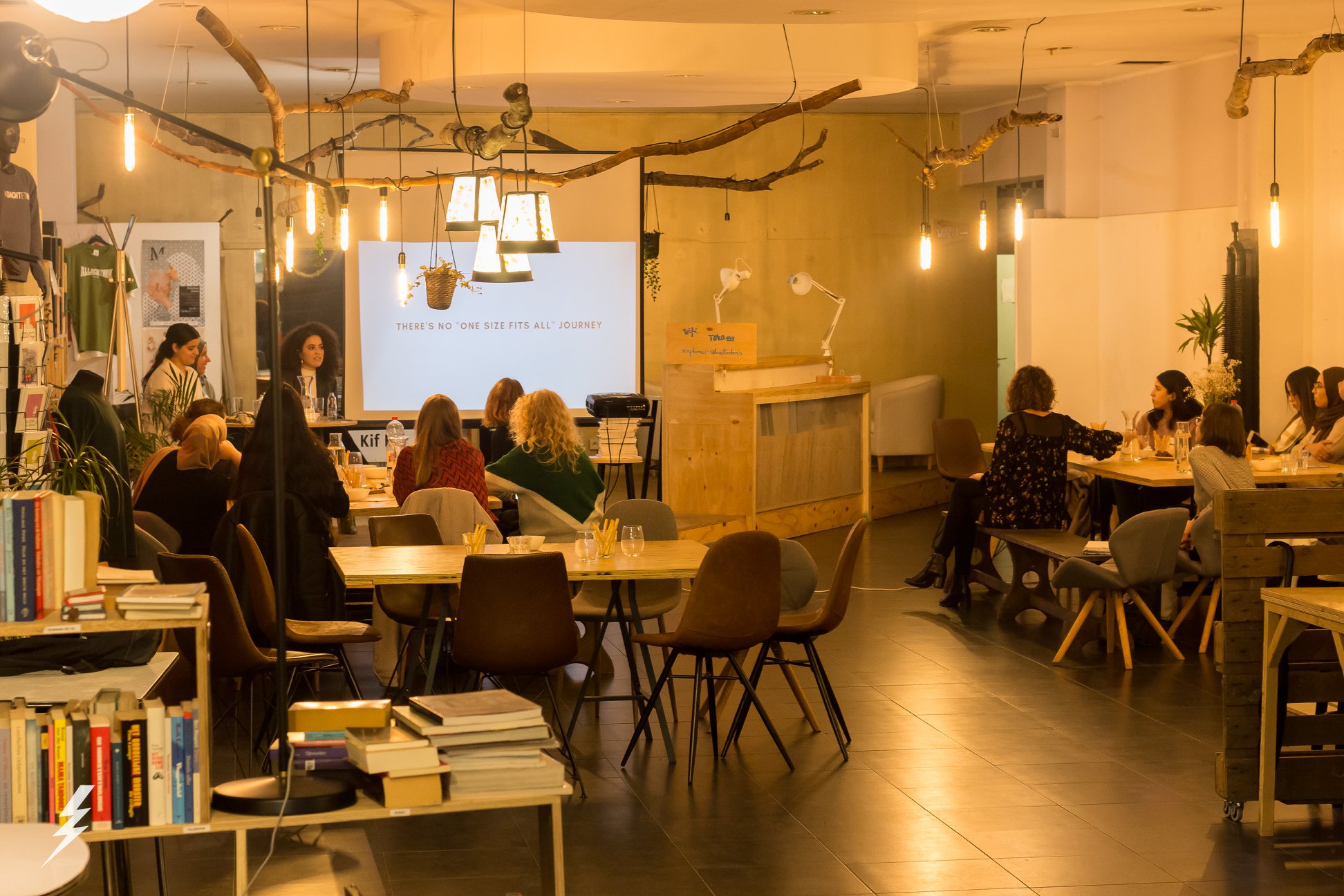 Coaching: Social Entrepreneurship
Met Zehra Özmen

11 december 2019 –
Antwerp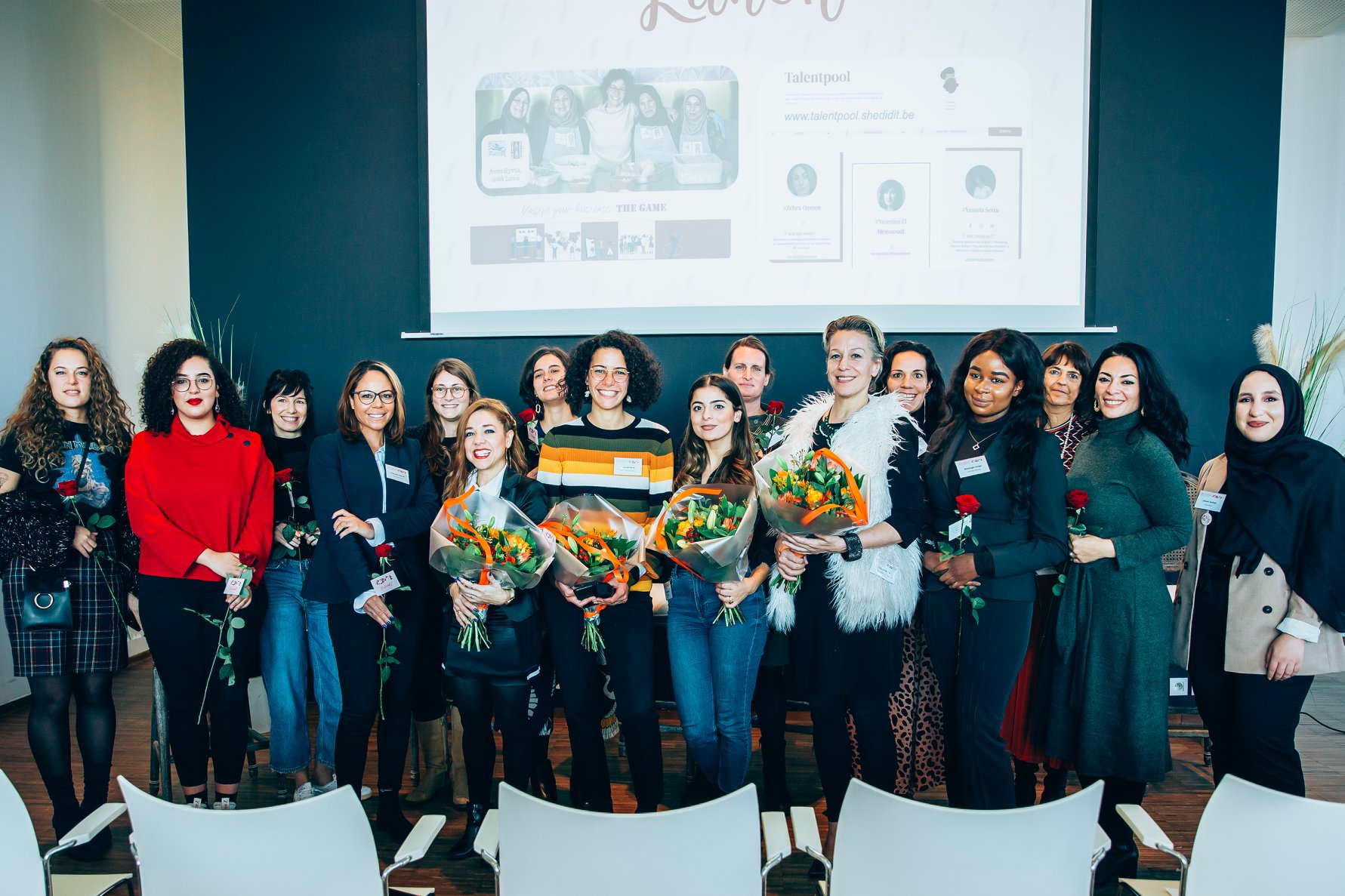 Met #SheDIDIT rolmodellen & Soraya Hayani, Katrin Van Den Troost, Yasmina Kichauat, Emmanuel Iyamu

22 November 2019 –
Ghent